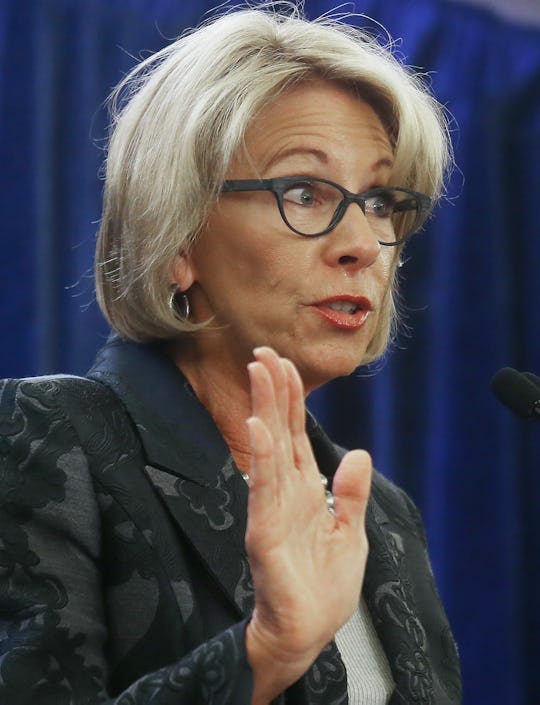 Mario Tama/Getty Images News/Getty Images
Did DeVos Flip-Flop On Transgender Bathrooms?
With the stroke of a pen, the bathroom wars have been resurrected. Or make that no less than two pens, because the heads of both President Trump's Departments of Education and Justice on Wednesday signed off on the guidance that strips transgender students of their rights to use the school facilities that correspond with their gender identities. But while outraged trans rights advocates are wholly unsurprised by the move, reports that Secretary of Education Betsy DeVos actually originally opposed it are much more unexpected. So, it appears that, in ultimately OK-ing the reversal of President Obama's 2016 order for schools to treat trans students equally in restrooms, locker rooms, and otherwise, DeVos changed her stance on bathroom protections in schools — publicly, that is.
Activists, civil rights groups, and others who care about equality for the nation's children were quick to condemn the Trump administration's rollback of the protections Obama's May 2016 order afforded trans students. (The order did not hold the force of law, but did threaten to withhold federal funding from schools that did not comply.) Apparently, DeVos too was reportedly ready to go against that reversal — until she signed off on it. Citing three unnamed Republicans, The New York Times reported that the secretary of education had balked at the prospect of approving the new order, which Attorney General Jeff Sessions urged her to do. (Romper has reached out to Education Department spokespersons for comment on this report and is awaiting a response.)
The White House could not issue the new guidance — which it claims to have done to protect states' rights and to reexamine the legality of Obama's protections — without DeVos's blessing. So, Trump himself reportedly instructed her to comply, despite her concerns about breaking the promise both she and Trump made to protect all students, according to CNN. That could be why the new guidance, while undeniably a major blow to trans students, also contains language meant to protect students from "discrimination, bullying, or harassment."
It's hard to believe that the Trump administration truly takes the wellbeing of trans students in schools seriously, though, when an afterthought like that exists as part of an order highlighting how the most powerful players in the federal government seek to single them out and expose them to ridicule, rather than shield them from it. And perhaps that's why DeVos subsequently issued an unequivocal statement affirming the "responsibility to protect every student in America and ensure that they have the freedom to learn and thrive in a safe and trusted environment" as a "moral obligation no individual, school, district or state can abdicate."
The contents of her statement, which she shared with the public after the new trans bathroom guidelines went live, would maybe seem unequivocal if she hadn't bowed to political pressure and abandoned her apparent convictions on this issue. Faced with the decision to either give up her post, fight back against the president, or to sell out trans kids, DeVos appears to have chosen the latter.
It's true that the a federal court had already barred enforcement of Obama's order, as The Times reported, but that does not mean, as DeVos asserts in her statement, that "there is no immediate impact to students by rescinding this guidance." In fact, it sends a forceful and damaging message to trans kids and any child who feels different from his or her classmates: The federal government views you as inherently less-than, and does not intend to work to make school a safe place for you to learn.
DeVos, for all her private and public bluster about ensuring that schools are welcoming for all students, is now doubling down on the opposite. At the annual Conservative Political Action Conference (CPAC) Thursday, she blasted the previous guidance, which did just that, as a "very huge example of the Obama administration's overreach," ABC News reported.
DeVos claims to put equality first, but defending trans kids who may need protections most should be included in those concerns as well.