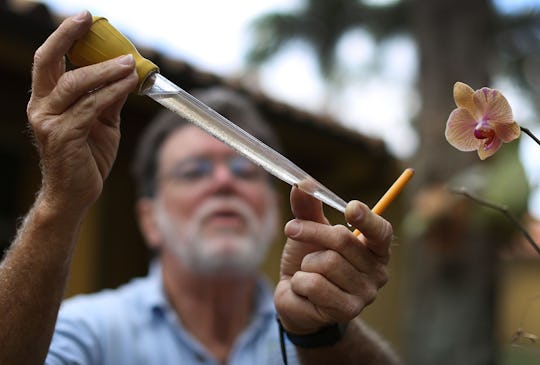 Joe Raedle/Getty Images News/Getty Images
Did The Zika-Infected Pregnant Women Here In The United States Catch It Locally?
The first case of the Zika virus in Brazil was reported in May 2015, and by October the world was shocked by photos of infants born with abnormally small heads that subsequently began circulating in newspapers and on the internet. The infants' mothers had contracted Zika, which is especially dangerous for pregnant women because it results in birth defects in babies, like the microcephaly that caused the undersized heads as well as brain damage. Although the scourge was so devastating that women were asked to delay getting pregnant there, not to mention hyper-contagious (it's usually transmitted by a simple mosquito bite), the epidemic still felt far away for many Americans. More recently, though, the virus has affected Americans in the United States, prompting major concern that there could be an outbreak here as well. According to The New York Times, the World Health Organization confirmed on Friday that there are 279 cases of confirmed or suspected Zika virus in pregnant women in the United States and its territories, but did they catch it locally here in the United States?
Experts currently emphatically discourage women who are pregnant or who may become pregnant from traveling to infected countries, which include more than 30 countries mostly located in the Americas and South Pacific.
While a pledge not to travel to countries like Nicaragua, Colombia, and Venezuela is certainly a smart one right now, the Zika-carrying mosquito, Aedes aegypti, has been identified in a number of states in the continental United States. Florida, Georgia, South Carolina, Alabama, and Louisiana are all home to high-risk cities, according to the National Center for Atmospheric Research (NCAR), and other states have moderate or low risks as well.
Despite the presence of the Aedes aegypti here, there have been no reported cases of Zika being transmitted via mosquito within the 50 states. The Times reported that a "relatively small number" of the infections resulted from a woman having sex with an infected person, which is a less common (but still notable) way for the virus to spread.
According to numbers from the Centers for Disease Control and Prevention last updated May 18, there have been 544 instances of Zika virus reported in the United States so far. The good news for worried pregnant women is that none of those were acquired within the United States from mosquitoes. Ten of them, however, were sexually transmitted, so women should be careful, vigilant, and sure to use protection if having sex with someone who has traveled or lived in any of the infected countries.
Adults who contract Zika often experience either no symptoms or relatively mild ones, like fevers and rashes, athough it's believed to be linked to neurological disorders as well. There is no vaccination or cure, which means that it is imperative that people take precautions like wearing long sleeves and pants, using insect repellant, and sleeping under mosquito nets.
The news that some pregnant women in the U.S. are dealing with the effects of Zika (and the stress of waiting until the baby is born to find out exactly how he or she is affected), came just a day after the U.S. Senate voted to allocate $1.1 billion to fight the virus. President Obama has been imploring Congress to vote to grant the necessary funds (he wants $1.9 billion), and the bill still needs to pass in the House before the funding can be enacted.
CDC officials have committed to updating the number of infected pregnant women in the United States each Thursday, so patterns may soon begin go to emerge. In the meantime, the weather is getting warmer as summer approaches, making it all the more important for pregnant women, and those who may become pregnant, to protect themselves from mosquitoes. It's not yet clear how likely it is that a woman who is exposed to the virus will catch it, or, if she does, what the chances are of her passing it to her fetus. In addition to microcephaly, Zika in babies has been linked with eye defects, hearing loss, and impaired growth, so an abundance of caution is in order.