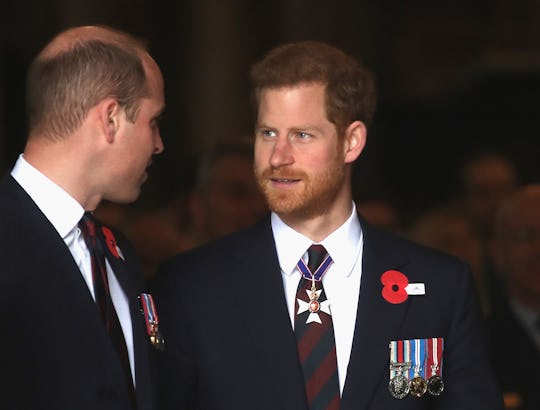 Chris Jackson/Getty Images Entertainment/Getty Images
Differences Between Prince William & Prince Harry's Weddings Range From Major To Minor Changes
The world was abuzz this weekend as another IRL fairytale played out in public: Prince Harry and Meghan Markle got married, and it was destined to be the event of the year, if not decade. Given all of the excitement and anticipation, it's hard to believe that it was only seven years ago that Harry's older brother, Prince William, was walking down the aisle with Kate Middleton at Westminster Abbey. Though royals do tend to err on the side of keeping with tradition, given all of the fanfare surround them, the differences between Prince William and Prince Harry's weddings were quite pronounced, highlighting the uniqueness of both couples, and all of their individual personalities.
Though there were already a handful of differences between the weddings even just in the planning stages, it would only make sense to begin with what was the same. First, the obvious: they were both glamorous, royal weddings watched by millions of people throughout the world. They both had multiple parts to their weddings, beginning with a ceremony, and then two receptions: first for all of the Queen's guests, and then for their own friends and families.
But here are some of the major (and minor) differences.
The Ceremony Location
The Sun reported that Harry and Meghan planned to get married at St. George's Chapel, rather than Westminster Abbey, where Will and Kate exchanged vows. The only notable difference between the two is that St. George's holds 800 guests, whereas the Abbey seats 2,000.
This means that Harry and Meghan may have opted for a cozier, smaller feeling (well, as cozy and small as you can get when hosting one of the biggest weddings of the decade).
The Date
Will and Kate got married on a Friday, which isn't surprising considering that it is tradition for royals to marry on a weekday, Harper's Bazaar reported. However, Harry and Meghan broke that tradition, and got married on a Saturday.
The Bridal Escort
In 2011, Kate Middleton's father was the one to walk her down the aisle, Harper's Bazaar reported. After a health issue requiring surgery is preventing Meghan's father from doing the same for her, Meghan started her walk down the aisle solo, and then she was joined by her now father-in-law, Prince Charles. In a statement released on Thursday, Meghan shared:
Sadly, my father will not be attending our wedding. I have always cared for my father and hope he can be given the space he needs to focus on his health.
The Groom's Clothing
Unlike his older brother, Harry wore his dress blues on his wedding day, paying homage to his military service. Though he also technically has military honors, Will, wore a uniform designed from the Colonel of the Irish Guards.
The First Kiss Location
One of the most iconic moments from Kate and William's 2011 nuptials was that balcony kiss. Due to the change of location, Prince Harry and his new bride Meghan couldn't recreate that moment of course, but instead they made their own iconic first kiss photo op on the steps of St. George's chapel.
"Husband And Wife"
According to the Order of Service, Meghan Markle and Prince Harry's ceremony included phrase and announcement of them as a married couple in the style of what most modern marriages include: husband and wife. During Prince William's wedding to Kate Middleton, the new couple was announced as "man and wife," according to The Telegraph. It makes total sense that Saturday's couple went with the more updated and feminist approach.
The Officiants
Prince William and Kate Middleton were married by the Very Reverend Dr. John R. Hall, 38th Dean of Westminster Abbey, appointed by Her Majesty Queen Elizabeth II, according to LA Weekly. The ceremony was beautiful, but quite different in feeling and scope from the address given by Michael Curry, the U.S. Bishop who gave the royal wedding address this Saturday.
Curry opened his remarks with a quote from Martin Luther King Jr: "We must discover the power of love, the redemptive power of love. And when we do that, we will be able to make of this old world a new world. Love is the only way."
And the incredibly moving and beautiful address soared on from there.
All told, both weddings reflected both tradition and the personalities of the participants, which is just as it should be.