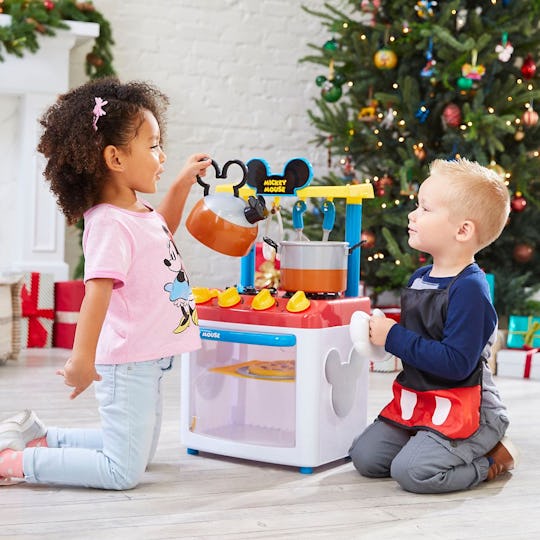 Disney
What To Get From Disney's Black Friday Sale (Don't Miss The Mickey Mouse Kitchen Set)
While some stores are starting their sales next week, Disney's Black Friday deals are already going on right now. You can save up to 40 percent off select items and choose from categories such as holiday items, gifts, toys, clothing, and accessories. Plus, there's free shipping on orders of $75 or more (and shipping is just $5 if you spend under that amount).
There are home décor items like towel and dish sets or a cute Mickey Mouse Holiday Cookie Jar ($55); those also include Chanukah options, like a Mickey and Minnie Mouse Chanukah Dreidel Salt and Pepper Set ($20). You can find sleepwear sets (think $15 Darth Vader Costume PJ PALS for Boys, which are jammies that come with a cape, doubling as a costume) and also a $12 Vampirina PJ PALS for Girls for the ghoulish gal in your life. Outdoor clothing is covered, too, with fleece outerwear options and graphic t-shirts to choose from.
And then, of course, there are the toys. You can snap up classic character toys, like Mickey and Minnie Mouse, but you can also find sales on practically every other Disney character, princess, and caped crusader, too. The prices are as marked, so you know exactly how much you're saving from the start. You'll definitely be able to find something for the diehard Disney fan in your life — and your kids, too.