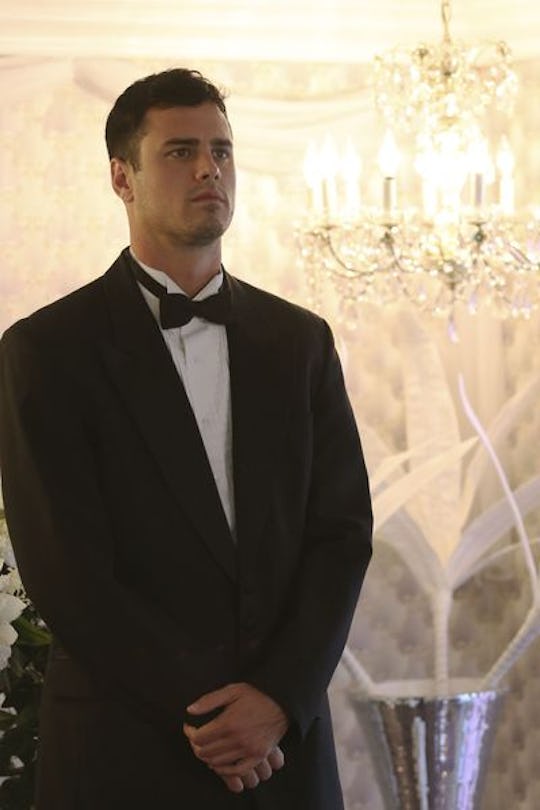 ABC
Does Ben Higgins Get Engaged On 'The Bachelor'? Family Is Definitely A Priority
Oh, Ben Higgins. If ever any Bachelor was the dream boy next door, you are that guy. Viewers first got attached to Higgins during last season of The Bachelorette, when TK. But now Ben is the Bachelor, and after you've come this far with him, you want to make sure he ends up happy. So of course the question hovering unanswered over every rose ceremony is, Does Ben Higgins get engaged on "The Bachelor"?
If your answer is, Of course, because what else is the point?, not so fast. Of the 19 previous seasons of The Bachelor, only one resulted in a relationship that is still going today, according to Glamour's count. The proposal rate is considerably higher — 12 previous Bachelors proposed at the end of their seasons — but given the first statistic about long-term outcomes, it's easy to understand why a Bachelor might be fearful about getting engaged in this setting.
So what are the chances that Ben Higgins specifically will put a ring on it? First let's first consider other factors working against him getting engaged. For one, he's only 27. It's unlikely that he's feeling any societal pressure to settle down. Even if he just wants to be in a serious relationship, he could definitely live with someone for a few years (or... get ready for it, folks... date someone seriously but not live with her) without getting engaged. That is allowed.
Also, in a recent interview with Parade, he didn't really sound like a newly engaged person:
Life has been really great to me over the last year. I learned a lot about myself along the way. I am generally happy. There are very few things in life that make me sad.
Hmmm. Most recently affianced folks would describe themselves as more than "generally happy," and it doesn't take being engaged to make life "really great" — some people would consider the opportunity to date over twenty people at once the really great part. But maybe Higgins was just being coy.
On the other hand, there are definitely signs that Ben does get engaged at the end of this season. For one, Higgins certainly seems determined to find a mate. He has articulated his interest in having a family in multiple ways — explicitly when he told Parade, and more implicitly in his Instagram, which is filled with photos of Higgins with his parents, grandparents, and little cousins.
In the Parade interview, when Higgins was asked if the Bachelors have gotten classier, he responded:
If the question is: Is it my intention to find somebody, it is an opportunity I want to take to try to find somebody. I think if you do it for any other reason, it won't be good.
So apparently it is Higgins' intention to find someone. And then there's the fact that there are some seemingly great candidates among the remaining Bachelor contestants. Ben's connection with Lauren Bushnell seems very strong, and he has also shown consistent interest in Amanda Stanton and JoJo Fletcher. All three seem grounded, and Amanda, a mother of two, comes with built-in family. Personally, my money's on Bushnell, and I don't see a choose-her-but-don't-propose scenario. I think there's a Neil Lane rock waiting for her at the end of this season.