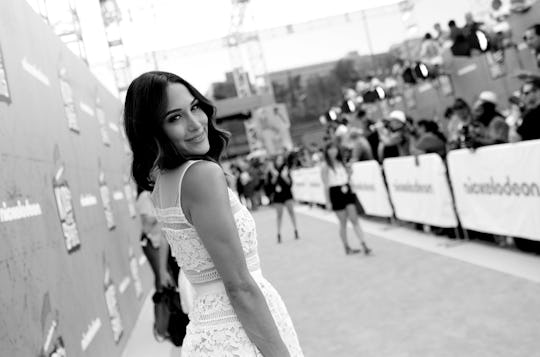 Mike Windle/Getty Images Entertainment/Getty Images
Brie Bella On (Possibly) Expanding Her Family
Total Divas star Brie Bella got the ultimate Mother's Day gift this year when she was released from the hospital after giving birth to her first baby just in time to celebrate the holiday at home. And, of course, the prominent WWE personality and husband Daniel Bryan have been documenting the journey on social media, showing off their little bundle of joy and just being 100 percent adorable all around. They're so adorable and seem so ecstatic, in fact, that it's easy to see them growing their family again sometime soon. So, does Brie Bella want more kids?
The short answer is yes. In a Facebook Live interview with E! News way back in October, right after she publicly announced that she was expecting, Bella shared the couple's plan when it came to how many kids they'd have. "Bryan and I want two," she said. "We think two is great. You know my husband has a severe problem with population control … so two babies at the most."
Bella's daughter, Birdie Joe Danielson, was born May 9 — and little more than a week later, Bella's twin sister, Nikki Bella, revealed some of the rough details about the experience. After more than 20 hours of labor, Bella had to have a C-section because "her abs were too tight." Seriously!
But it was all worth it for Bella, who posted the sweetest photo of the family to her Instagram page not long after the baby was born.
And the love fest continued when she returned home, with Bella taking to Instagram to express her joy at finally getting to fulfill her dream of celebrating Mother's Day as a mother and even hailing breastfeeding as "literally my most favorite thing ever." One thing's for sure: Bella is more than stoked about being a mother — and so is Bryan, who has long been excited about the prospect of having a child.
But there's one thing the WWE SmackDown general manager is going to miss now that his daughter is out in the world: his wife's pregnancy, as he told The Sun before Birdie's birth:
I'm just excited to meet our child. The one thing I will be sad about is I love Brie being pregnant, I love it. I love being able to feel her stomach and the baby kick and all that kinda stuff. She's ready to get the baby out of there, but I'm going to miss that.
Luckily for Bryan, he'll get to experience that all over again if the couple does indeed decide to have two kids as planned. I'd say that would make them twice as happy, but, honestly that just doesn't seem possible.