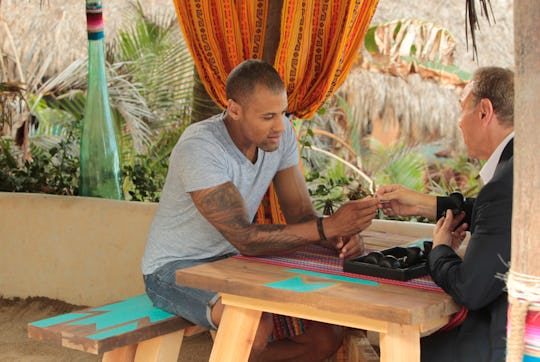 ABC/Rick Rowell
Does Grant Pay For Lace's Ring On 'Bachelor In Paradise'? He Won't Worry About Costs
When any couple gets engaged on Bachelor in Paradise, the male half of the couple gets to sit down with jewelry designer Neil Lane and pick out the perfect (and huge) diamond engagement ring for their prospective fiancé. But engagement rings aren't cheap and the kind we see on the shows in Bachelor Nation are far from humble, so who foots the bill? And Tuesday night, does Grant pay for the ring on Bachelor in Paradise? It's plenty obvious by now that he'll be proposing to Lace, since there will be multiple engagements and the one we know for a fact won't happen is Nick and Jen, since we all know he'll be coming back to TV as the next Bachelor.
Grant works as a firefighter for a living but is also a model and has done some minor acting, so he's not broke, but he's likely not rolling it in either. Luckily though, for those on Bachelor in Paradise who are ready to take the plunge of getting engaged, they don't have to worry about a ring budget or the cost at all since they're given the ring of their choice, free of charge. So yeah, that's why the chosen rings are always insanely blingy.
And we aren't talking about your average, shopping mall jewelry shop rings that most couples end up going on payment plans for, but instead the real deal. Neil Lane caters to A-list celebrities like Zooey Deschanel, Emily Blunt, and Nicole Richie, so the rings are nothing short of versatile, but on Bachelor in Paradise, the thousands of dollars that most couples spend on engagement rings can be saved for the weddings, because either Neil Lane or ABC foot the bill.
That kind of makes sense, since on these types of shows, we have men and women from all kinds of different backgrounds and salaries, making the possibility of affording a sparkling and flawless diamond engagement ring a lot easier for some than others. But when Grant proposes to Lace, and you know he will despite all of the warnings in the promo for Tuesday's Season 3 finale, what kind of ring will he be doing it with?
At this point, you can almost picture Grant showing up to their final private rose ceremony with Chops, the tattoo artist, to brand her with a tattooed engagement ring, but when you get the option of a free one, you don't say no. You can kind of imagine a big shiny rock on Amanda's finger and maybe something with yellow gold for Carly, but for Lace, something a little more unconventional, but equally as impressive, like a big oval solitaire.
Basically, the sky's the limit, because Grant doesn't have to pay for the ring on Bachelor in Paradise, making it even easier for these couples to propose when it comes down to crunch time. Still, seeing Grant and Lace walk around Mexico like a real couple and seem so legit makes you excited to see the proposal, despite any last minute hiccups we'll probably witness first.