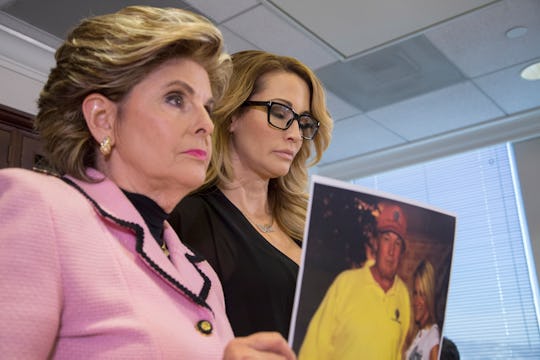 David McNew/Getty Images Entertainment/Getty Images
Donald Trump Won't Sue Accusers, According To His Campaign — At Least Not Yet
Republican presidential nominee Donald Trump won't promise to accept the outcome of the election if he loses, but he did pledge to sue the more than 10 women who have accused him of making unwanted sexual advances on them this month. In fact, that's one of the first things he'll do when he makes it into the White House, he told a crowd of supporters during a Gettysburg, Pennsylvania, rally Saturday. And, apparently, his campaign team is going to ride that claim out with him until Election Day. In an interview with Chuck Todd on MSNBC's Meet the Press Sunday morning, campaign manager Kellyanne Conway dug in and explained why Donald Trump won't sue his accusers until after the votes are counted.
"We're busy winning the presidency," Conway told Todd in response to a question about why Trump isn't following through with his lawsuit now, because he has so adamantly insisted that he is innocent of all the allegations of inappropriate touching, kissing, and groping against him. "We're a little bit busy over here doing that. And but he's just I think putting people on notice that they can't falsely accuse him."
But the very public allegations of sexual misconduct against Trump have continued to roll in ever since The Washington Post publicized a 2005 video of him joking about his belief that his star power entitles him to allegedly grab women "by the pussy."
Still, Trump has been unwavering in his denial that any of these incidents ever happened, even insinuating that some of the women — like the former People reporter who said he allegedly cornered her in a room and forcibly kissed her in 2005 — weren't attractive enough for him to want to sexually assault, anyhow.
And in Gettysburg on Saturday, amid telling the crowd that the election is rigged against him and that the nation is "very divided," Trump lambasted each of the women's claims as "total fabrication." Here's what he said:
Every woman lied when they came forward to hurt my campaign. Total fabrication. The events never happened. Never. All of these liars will be sued after the election is over ... It was probably the [Democratic National Committee] and Hillary's campaign who put forward these liars with their fabricated stories. But we'll probably find out later through litigation, which we're so looking forward to.
(That night, Clinton told reporters "that's just not accurate" when asked about Trump's accusation, according to CNN.)
What's also unlikely to be true is that Trump will actually follow through with suing any of these women. Earlier this month, The New York Times published the stories of two women who claim that Trump touched them inappropriately. Jessica Leeds told the outlet that the real estate mogul had groped her on an airplane in the 1980s, and Rachel Crooks said that he unexpectedly kissed her on the lips the first time she ever met him, when she was working as a receptionist in Trump Tower in 2005. Trump's lawyer swiftly sent the newspaper a letter threatening to sue for libel if the article wasn't removed from the site and retracted.
Two weeks later, the piece is still up. The Trump team has not sued.
The reasons why are simple. Besides the fact that Trump's attorneys undoubtedly know that actual libel laws would absolutely prevent them from winning the case, going through with the trial would be unnecessarily risky for their client. That's because of a little process called discovery, which essentially permits each side to request any and all relevant information for the their cases from the other. "Whatever the Times has that Trump wants—research notes, internal correspondence, whatever—the stuff that Trump will be required to hand over will be ten times worse," GQ's Jay Willis wrote, explaining why it would be foolhardy for GOP's pick to sue the publication. "Information about previous lawsuits he has settled? His tax returns? The elusive Apprentice tapes? They could be fair game."
And in a civil case against actual alleged victims of sexual assault, the potential for the women's lawyers to demand damning information from Trump could be even more devastating for him. Win or lose, it's a good bet he won't actually sue these women who claim he has already victimized them, no matter what Kellyanne Conway says. Rather, he's perpetuating that narrative to garner votes, appear tough, and maybe even gain some sympathy. Ultimately, the threat is likely to go where most Trump threats of litigation go: nowhere.