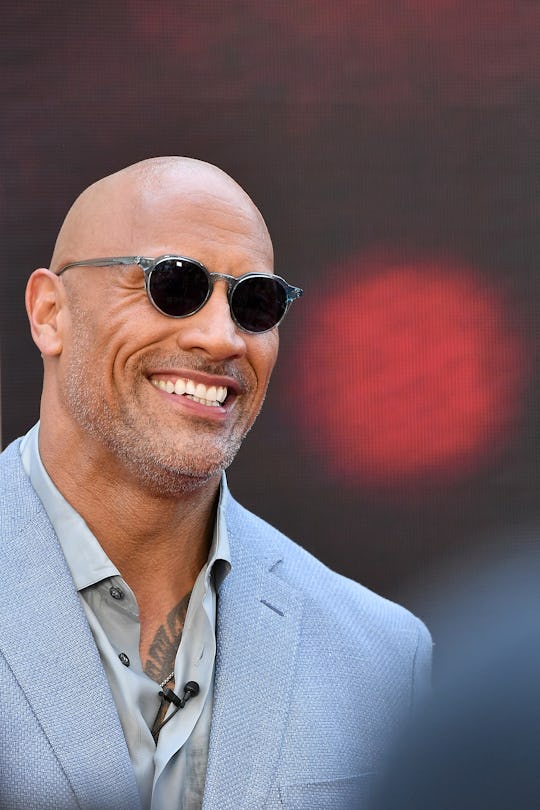 Michael Loccisano/Getty Images Entertainment/Getty Images
The Rocks' 2-Year-Old Daughter Complimented Him In The Most Toddler-Esque Way
It looks like Dwayne Johnson's daughter is pretty oblivious to her dad's universally impressive muscles. This weekend, the dad of three posted a photo of himself teaching his 2-year-old daughter, Jasmine, how to swim. And, as revealed in the hilarious caption, Dwayne Johnson's daughter gave him an adorably hilarious "compliment" during swim time.
"Great to recharge the batteries this weekend, back home with all my girls and teaching this lil' tornado how to swim," Johnson captioned a photo of him and Jasmine in a swimming pool. "Took my shirt off and she said, Daddy I like it your brown boobies.. 😂🤔 Thank you baby, but daddy has pecs, not boobies. #KickThoseLegs #UseThoseArms #MrBrownBoobs." Truly, only a toddler could come up with a comment like that. Good on Mr. Brown Boobs for taking it in stride.
Plenty of fans commented on the Instagram post, applauding Jasmine's compliment for being something only a toddler would say. "Love it, out of the mouth of babes, nothing better in this world ❤," one commenter wrote on the post. "Lol omg! The stuff that comes out of kids [sic] mouths," added another. "Oh my my daughter says stuff like that it just makes you love their innocence and honesty so much more.... The world needs that... Great job at being a great dad!" commented someone else.
If you're wondering why Johnson mentioned being back home this weekend, it would appear that he's been on tour promoting his newest film, Skyscraper. The Rock is certainly a busy man, and it's clear that he loves spending time with his family during every free moment. He and his girlfriend Lauren Hashian welcomed their second daughter together, Tiana, in April 2018. Johnson also has a 16-year-old daughter named Simone with his ex-wife, Dany Garcia, according to People.
Johnson has opened up about fatherhood on many occasions. In March, for instance, Jasmine unexpectedly had to go to the hospital for an undisclosed emergency, according to Entertainment Tonight. The Rock opened up about the scary incident (adding that Jasmine was all OK) in an Instagram video after everything had settled, giving fellow parents advice on how to deal with emergencies. In the video, he said:
To all you mommies and daddies out there, when emergencies like this happen, I would just highly recommend that you stay as calm and as focused as possible because our little babies energetically, they pick up on what we're putting out, especially in times of stress.
And when Hashian gave birth to Tiana earlier this year, The Rock wrote an Instagram post that made every single one of his followers collectively go "awww."
Alongside a photo of him and his new daughter doing skin-to-skin contact, he shared an ode to Hashian...
I was raised and surrounded by strong, loving women all my life, but after participating in baby Tia's delivery, it's hard to express the new level of love, respect and admiration I have for @laurenhashianofficial and all mamas and women out there.
...advice for the partners of pregnant women...
If you really want to understand the single most powerful and primal moment life will ever offer - watch your child being born. Its [sic] a life changer and the respect and admiration you have for a woman, will forever be boundless.
...and a message to his new baby daughter.
... I'll love, protect, guide and make ya laugh for the rest of my life.
And there was also that epic time The Rock spoon-fed Hashian dinner while she breastfed Tiana. Next to a photo of the dinner-for-two, the doting dada wrote:
I'll handle this business 😉💪🏾Mama @laurenhashianofficial has her hands full nursing/feeding Baby Tia, so I'm feedin' mama her dinner. My pleasure. So much respect to her and all mamas out there holding it down and running things.
It's clear that Johnson is a devoted partner to Hashian, a loving father to his three daughters, and, most importantly, he knows how to pull off "brown boobies."