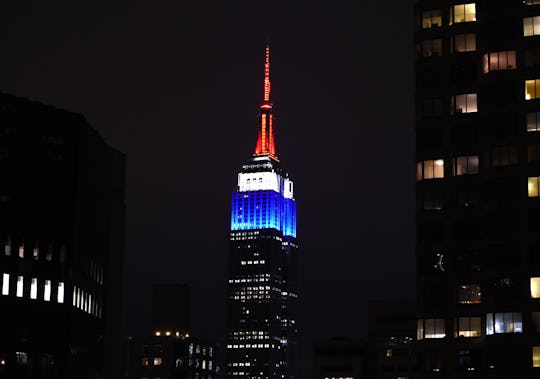 Empire State Building Pays Tribute To Paris With Red, White, & Blue Lights — UPDATE
UPDATE: On Twitter Friday night an image circulated of New York City's Empire State Building ostensibly lit up red, white, and blue in a show of solidarity with France in the wake of the terrorist attack on Paris Nov. 13. In fact, the Empire State Building was not lit up red, white, and blue Friday night. The photo circulating on Twitter was from January 2015, Inverse reported, when the Empire State Building was lit up in the colors of the French flag following the terrorist attack on the office of Charlie Hebdo, a satirical paper based in Paris. Inverse noted that the Empire State Building was lit red, white, and blue on Nov. 11 in honor of veterans day, but the colors were in a different order than in January.
The Empire State Building did go dark at 10 p.m. Eastern Time Friday as a show of support for Paris, where the Eiffel Tower's lights were also out in the wake of the violence.
EARLIER: After multiple, devastating terrorist attacks in Paris on Friday night, New York City's Empire State Building was lit red, white, and blue as a gesture of support on a night that has unfolded in an ever-more-horrifying way after over 120 people were reportedly killed in multiple explosions and shootings.
New York and other large cities around the world, worked quickly to assess whether or not the events in Paris were indicative of a threat elsewhere. Officials from the U.S. Department of Homeland Security have since said there is, "no known, credible threat against the U.S." and French officials say eight assailants are dead. ISIS has claimed responsibility for the attacks.
In a statement early Friday evening, President Barack Obama made a statement about the attacks in Paris, calling France "an extraordinary counter terrorism partner," made it clear that the U.S. offers its unmitigated support after this tragic night:
We stand together with France in the fight against terrorism and extremism ... We are going to do whatever it takes to work with the French people and nations around the world to bring these terrorists to justice, and to go after any terrorist network hat go after our people.
New York, no strangers to the heartbreak and fearful uncertainty that comes in the immediate wake of an act of terrorism, showed support by lighting up its most iconic landmark with the colors we share as a beacon to our neighbors across the Atlantic.
One World Trade Center is also carrying red, white, and blue lights tonight:
New York, unsurprisingly, is not the only city displaying silent gestures of solidarity and condolence to Paris tonight:
Image: Timothy A. Clary/Getty Images