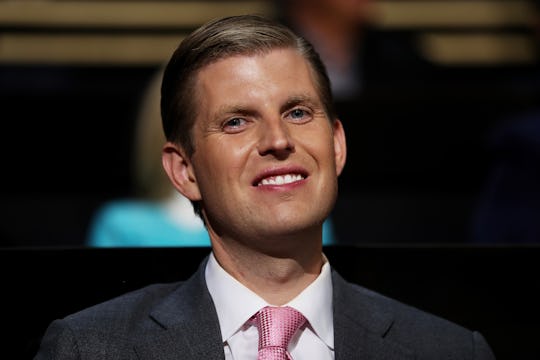 Joe Raedle/Getty Images News/Getty Images
Eric Trump Says Critics "Are Not Even People"
Another morning, another foray into "What did Trump say this time?" But on Wednesday morning, the country was left befuddled at the words of a different Trump — Eric. On Tuesday night, Eric Trump said his father's critics "are not even people," to FOX News host Sean Hannity. This wasn't buried in the middle of some lengthy editorial diatribe between Hannity and his guest, either: Trump came right out the gate swinging at his father's critics (read: Democrats). He told Hannity that the Democratic Party was "imploding" while calling DNC Chair Tom Perez a "total whackjob." The DNC did not immediately respond to Romper's request for comment regarding Trump's remarks.
After dehumanizing the president's opposition, Trump went on a long-winded hypocritical stretch about the lack of manners and morals in society, seeming oblivious to any of the words or actions of his own father since assuming the presidency. "You might be an opinionated person, but you don't use profanities," Trump said, referring to a comment made by CNN host Reza Aslan in which he called the president a "piece of sh*t" on air Sunday. But apparently, when Daddy Don moved on a woman "like a b*tch" and grabbed women by the p*ssy — that gets a pass? Representatives for Eric Trump did not immediately return Romper's request for comment.
Perhaps some of Trump's dehumanizing criticism of his father's critics — from Democrats, to comedian Kathy Griffin, to the media — stems from the fact that a Forbes report on Tuesday alleges that Donald Trump funneled money from Eric Trump's kids' cancer charity. A spokesperson for the Donald J. Trump Foundation denied the Forbes report, telling Romper, "Contrary to recent reports, at no time did the Trump Organization profit in any way from the foundation or any of its activities." It was easy to see that the Forbes report clearly touched a nerve, as Trump went on to label the vast sums of money he's raised for St. Jude Children's Research Hospital in his 33 years on this planet.
In an even more confounding round of stunning hypocrisy, Trump offered his thoughts about the Russian collusion "theory," as Hannity described it. "We don't have projects in Russia. We don't have loans from Russia," Trump said, adding, "I've said this a thousand times." Well that's interesting, given that older brother Donald Jr. told a 2008 real estate conference, "Russians make up a pretty disproportionate cross-section of a lot of our assets ... We see a lot of money pouring in from Russia."
Watch the whole gag-inducing segment below.