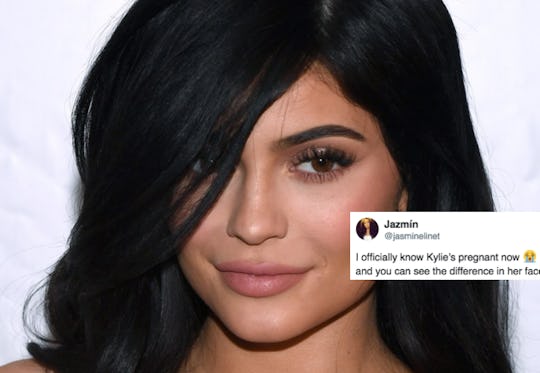 Ethan Miller/Getty Images Entertainment/Getty Images
Kylie Jenner's Fans Think They Spotted A Major Pregnancy Clue In The Calvin Klein Ad
When the Kardashian-Jenner sisters' Calvin Klein ad dropped earlier this week, fans became convinced that the quilts and baggy outfits blocking Kylie Jenner's alleged pregnancy bump confirmed the months-long rumor that she is expecting. (A rumor that Kylie has steadily refused to acknowledge since it began back in September.) And now, fans think they've spotted yet another "clue" in the ad: they think Kylie Jenner's lips indicate that she is pregnant. To be more specific, people on Twitter have been pointing out that in the ad, Kylie's lips look a bit thinner than usual, implying that she has been taking a break from getting lip fillers — which are a no-no for pregnant women.
While it's understandable that those obsessed with Kylie's whole is-she-or-isn't-she pregnancy might find this theory interesting, it's actually a pretty big reach. It's no one's place to judge, shame, or compare a woman's body — even if they're just comparing it to how she looked a few months ago. Nevertheless, fans continue to grasp at straws and create ~*theories*~ and this is just the latest.
Fans seem to think Kylie's supposedly thinner lips in this new batch of photos is a strong pregnancy clue. For those out of the loop, Kylie first disclosed that her plump lips were the result of lip fillers in May 2015. "I have had temporary lip fillers," she said on Keeping Up With The Kardashians at the time, according to the Daily Mail. "It's just something that I wanted to do."
Her lips have only become more of a commodity since then, as she launched Kylie Lip Kits later that year. She further opened up about her lip fillers (and why she previously denied having them) in an interview with Complex in 2016. "It has been an insecurity of mine all my life," she told the outlet. "This guy I kissed was like, 'Your lips are really small but you're a really good kisser. I didn't think you were gonna be good at kissing,'" she recalled a boy telling her in middle school, according to Complex. "It was so rude. From then on, I just felt like I saw guys staring at my lips. I felt like no one wanted to kiss me."
Rumors that Kylie was pregnant kicked off with a TMZ report in September 2017, over four months ago. Within days, multiple news outlets investigated whether or not she'd be able to continue getting lip fillers throughout her pregnancy. "I recommend that women stop getting lip fillers as soon as they learn they are pregnant," Dr. Simon Ourian, a cosmetic and plastic surgeon who claims to have worked with Kylie previously, told Page Six at the time. "No one knows the implications of lip fillers on pregnant patients since dermal fillers haven't been tested on pregnant women." He added that he would not administer lip fillers to Kylie or any other pregnant patient. "I would never knowingly administer lip injections to a pregnant patient," he continued, according to Page Six. "In fact, it is my policy not to perform any procedures at all on pregnant women."
Some fans seem to have taken the lip filler warnings to heart, and they assume Kylie has too. Since the photoshoot was released on Monday, they've tweeted what they think they've observed: thinner, more natural lips on Kylie.
Fans *Really* Think They Can Spot A Difference
Not to mention, some of Kylie's fans noticed that Kylie had been making less public appearances (and posting less selfies, too) ever since pregnancy rumors first broke. A few people suggested that her more mysterious presence had to do with her lips even before the Calvin Klein ad dropped.
Fans Have Theorized This Well Before The Calvin Klein Ad
The mystery surrounding Kylie's rumored pregnancy might be frustrating for her die-hard fans, but it's important to remember that it's Kylie's choice if and when she chooses to share the news with the public. But in the meantime, picking apart a woman's body and physical features really isn't conducive to solving these rumors.
Either way, People reported that the alleged baby's due date is in February, so perhaps fans will have the answer they've been looking for very soon.
Check out Romper's new video series, Romper's Doula Diaries:
Watch full episodes of Romper's Doula Diaries on Facebook Watch.