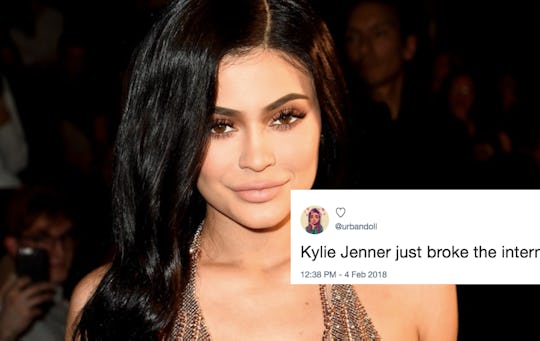 Nicholas Hunt/Getty Images Entertainment/Getty Images
Twitter Is Losing Its Damn Mind Over Kylie's Pregnancy Announcement
It's a new year miracle! For months, fans speculated whether Kylie Jenner was pregnant with her first kid with Travis Scott. On Friday, after completely skipping over the pregnancy reveal part of this story, Kylie Jenner reportedly gave birth, and obviously this is a huge deal. Now that the proverbial cat is out of the bag, Twitter is swarming with some of the funniest reactions to Kylie Jenner giving birth because, seriously, everyone has had way too long to work on these jokes.
Kylie never actually announced her pregnancy on Twitter, or Snapchat, or Instagram, or any other form of social media. She dropped an 11-minute video on YouTube documenting the last nine months, dedicated to her daughter.
After trolling her fans with hints and clues on social media since the pregnancy rumors broke back in September, it felt like confirmation was never coming out way. So if people are letting loose now that we know she's not only pregnant but also officially a mother to a baby with boyfriend Travis Scott, so be it.
News of Kylie's alleged pregnancy broke in September when unnamed sources close to the family spoke to the press. The very next day, Kris Jenner spoke to New York Magazine's The Cut and essentially brushed off the rumors that either Kylie or Khloé Kardashians was expecting. Throughout the fall, various members of the family refused to comment at all about their sisters, with Kim Kardashian even going as far as drinking a sardine smoothie on national television to avoid talking about it.
All of these reactions are way better than pureed fish.
A source spoke to Us Weekly when the news first broke about Kylie's pregnancy and said that because she "lives a block from all of her family" the choice to have a baby was "easy." "Kylie's take is that for everyone in her family, children have only made their lives better," they added. In her video to her daughter, friend Jordan Wood echoes this anonymous source by saying that although at 20 years old, people are normally figuring things out, Kylie knew for sure that having a baby was the right thing for her.
She didn't have a huge plot line on Season 14 of Keeping Up With The Kardashians and when the mid-season finale came and went without a baby announcement or gender reveal party for Kylie, it felt like maybe it was never going to happen. No we know why. She wanted, as she wrote in an Instagram post announcing the baby, to live those nine months in the "positive, stress free, and healthiest way" she knew how.
That doesn't mean it wasn't hard for fans, which she also acknowledges in her Instagram post. It didn't help that Kim slowly revealed their iconic annual Christmas card, featuring all the family, over the course of the month. Despite speculation that the Christmas card would be the way the Kardashian/Jenner family revealed the big news, nothing happened on the 25th day of Kristmas. So until now, fans have truly remained in the dark.
To explain her absence season, Khloé joked that "Kylie is the new Rob," referencing her younger brother who spent about four years totally absent from the show because of his fears of being on camera. She was right, but now that the baby is confirmed, it all sort of makes sense. Kylie just needed some space to do her own thing after finding out about her good news. Plus, she's allowed some personal space. I'm so glad she made the choice she did, for her well being and the baby's.
For fans who watch the show religiously, it was definitely challenging to be kept in the dark as much as we were, but, at the end of the day, it's all good news. Kylie has a new bundle of joy, and fans can sleep a little easier at night, knowing that the news is finally confirmed.
Check out Romper's new video series, Romper's Doula Diaries:
Watch full episodes of Romper's Doula Diaries on Facebook Watch.