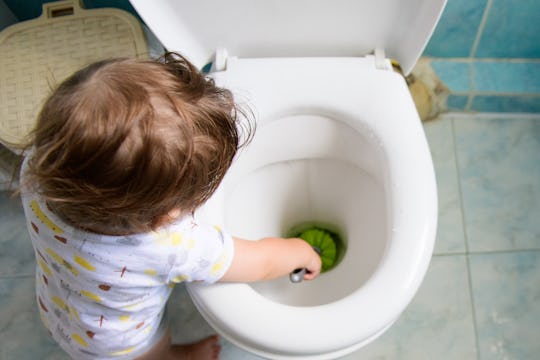 Shutterstock
13 Moms Share Hilarious Stories Of Their Toddlers "Helping" Them Clean
Toddlers love to help. They also love mimicking adults, so it makes sense they would want to sweep or help cook dinner or clean from time to time. The problem? They suck at helping. Romper asked moms to share the hilarious stories of their toddlers "helping" them clean because, bless their hearts, they create so much more work than they could possibly counteract.
No one is surprised here though, right? I mean, toddlers are basically just sentient messes. The idea that they could ever participate in any sort of cleaning or tidying is antithetical to their very existence. Of course, as a parent, it's up to us to help them learn to be less messy and that can start in the toddler years, but OMG that learning curve is frustrating AF. (Especially if you're an anal retentive Type A, like me, who wants things done properly.) It's a delicate balance between teaching them how to be responsible, tidy humans and getting anything clean in the next couple years.
Of course, sometimes, the little darlings take matters into their own hands. And when they do, you're sure to have an even larger mess on your hands, and a hilarious story to go along with it.