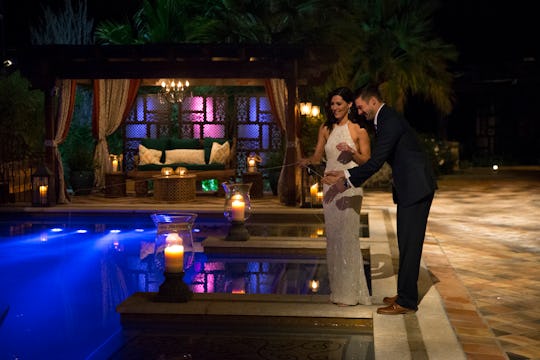 Paul Hebert/ABC
Who Got The Coveted First Impression Rose From Becca On 'The Bachelorette'?
As to be expected, there were plenty of men who caught Becca Kufrin's eye and gained her attention during The Bachelorette Season 14 premiere. She clearly made the biggest connection with Garrett Yrigoyen, though, so when Garrett got the first impression rose on The Bachelorette, Twitter was all over it. He may not have shown up in a chicken suit or had a cardboard cutout of former Bachelor Arie Luyendyk Jr., but Garrett did have a shtick of his own that was pretty charming. He showed up in a minivan, fully prepared to show Becca that he's ready to settle down and be about that soccer dad life.
The van even came with a soccer ball and a car seat, so you can't say he wasn't dedicated to his idea of making a first impression on her. Regardless of whether you thought Garrett's move was corny or just plain adorable, it was obviously the first indicator for Becca that Garrett would be the one to get the coveted first impression rose. Ahead of The Bachelorette premiere, Becca actually got to meet five of her contestants on After the Final Rose. In a way, you had to wonder if Becca would choose one of those men to receive the first impression rose, as they all had something of a leg up on the competition. But, in the end, Garrett was the guy who made the biggest, well, impression on her.
It also helped that Garrett basically had a one-on-one date with Becca during the cocktail hour when he taught her how to fish in the Bachelor Mansion pool. And because of that, along with the fact that he reminds her of home, Becca's decision was made. You also can't help but notice that compared to some of the other contestants, who already had drama or inadvertently gave off some red flags for Becca, Garrett was kind of an angel.
There was no question about whether he was there for the right reasons and he certainly didn't have night one drama with any of the other men, so by all accounts, Garrett was well on his way to getting that first rose ahead of the first rose ceremony. Even before the premiere, he was considered to be a fast frontrunner for her.
According to Becca, from the time Garrett rolled up in the minivan and charmed her, he had her attention and she was definitely interested. Afterward, Garrett proved that he was more than deserving of the honor of the first impression rose when he said afterward in his interview, "That kiss was so good, I just want to hold onto her for the rest of the night... I'm the luckiest guy in the world right now." As if fans really needed any more reason to love the idea of Becca and Garrett together, right?
Overall, Garrett seems to be one of the more genuine and "real" men on the show this season, His profession isn't listed as "social media participant" or "chicken man" and he hasn't said anything to suggest that he's fresh out of a serious relationship -- or that he broke up with someone just to go on the show. Becca no doubt saw that in him right away, along with the potential in what she could possibly build with him throughout the course of the season.
There's still plenty of time for her to change her mind, or for Garrett to realize that he doesn't have strong enough feelings for Becca, but he definitely earned that first impression rose. And fans on Twitter are totally behind Becca's decision!
All that's left to do now is hope that Garrett lives up to the honor of getting the first rose and first kiss of the season.