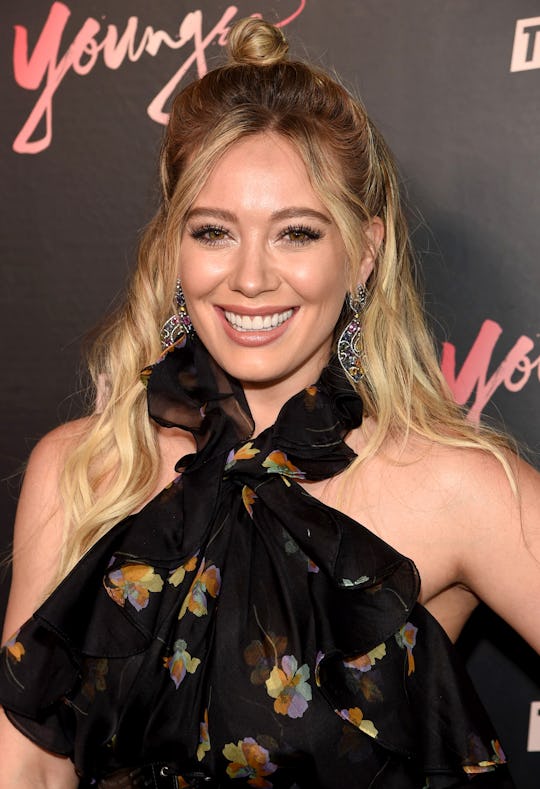 Jamie McCarthy/Getty Images Entertainment/Getty Images
Hilary Duff's Sweet Dog Totally Knows She's Pregnant — PHOTO
They say your pooch is your best friend, and some expectant moms have sworn that their pet is so sensitive to them, that they can somehow sense their owner has a bun in the oven. Actress Hilary Duff is having that exact experience, according to a recent post on her Instagram Story. This week, Duff shared that she thinks her dog knows she's pregnant. And she's probably right, because when you think about it, our furry friends always know when something's up.
Duff, who stars on the hit TV show Younger, is clearly a dog person, owning four pooches total, (all of whom make appearances on her social media quite often), according to People. But it's little Lucy who Duff suspects is on to her and her growing baby-to-be.
"Guys, do you believe in dogs knowing your [sic] pregnant?" the star captioned a photo shared on her Instagram Story on Tuesday night, showing a teeny brown pup nuzzling on the actress' bump. "My dogs have always been affectionate but lately Lucy has gotten on a whole new level... putting her head on my belly... I think she knows my secret."
Not that Duff's pregnancy news is still an actual secret in the human world: the actress announced last month on Instagram that she's expecting with boyfriend Matthew Koma, and also revealed her baby-to-be's sex — a girl! But assuming our pets don't speak English fluently and don't turn on the TV with their pet friends while we are gone for the day, as in my littlest kid's favorite movie, The Secret Life of Pets (please don't tell her it's not real, she's planning to grow up to go to Brooklyn to find the gang), it's fair to wonder if Lucy the Dog already knew the big news from her canine instincts alone.
In fact, according to Health, dogs can sense scientific secrets about their owners, including the fact that they can smell hormonal changes in a person, such as those caused by pregnancy. What's more, according to Health, dogs are so sensitive to their masters' moods, they might be able to tell you're expecting (or something big's up) by changes in your routine or emotional life, including the mood swings that can happen in the first trimester. A dog will then want to stick closer, according to Pedigree, to reassure you or themselves.
Like with Duff's experience with her dog Lucy, Animal Planet explains that dogs many become more cuddly when they sense you're pregnant. "All dogs react differently to a pregnant owner — some become protective, others more fearful and still others remain indifferent," according to Animal Planet, which further explained:
As your waist expands, their reactions may vary. Your new gait may invoke a protective dog to become your constant escort or send a timid dog to his favorite hiding spot. Dogs that were never lap dogs may suddenly have a newfound interest in snuggling.
From the looks of it, it sure seems like Lucy is one happy and content pup as she and Duff await the family's newest arrival. Though Duff has not revealed a due date, she's reportedly expected to give birth later this year, according to Newsday. And she seems beyond excited to welcome her baby girl, who will be her first child with 31-year-old Koma, a music producer. Duff is also the mother to her 6-year-old son, Luca, whom she shares with her ex-husband, hockey player Mike Comrie, according to Us Weekly.
Duff also hilariously shared last month that Luca already picked out a name for his baby sister. "Luca thinks 'Cofant Croissant' is like, the coolest name," she told People.
It will undoubtedly be fun to keep up with Duff's pregnancy journey in the coming months. And considering she's been sharing more and more bump pics recently, there's no doubt that she will keep all of her fans posted as the birth of her future daughter approaches. Or maybe Lucy the Dog will be the one to keep us informed...