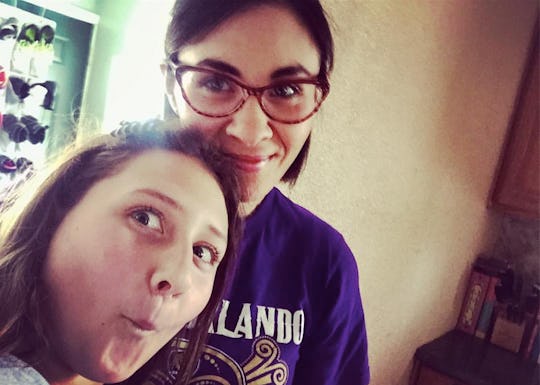 Courtesy of Candace Ganger
Honestly, Sometimes I Wish I Would've Waited To Become A Mom
Deciding when, let alone if, to become a mom is hardly an easy decision. It's not a decision taken lightly, regardless of how old you are or where you are in life, and it often requires an intense amount of self-evaluation. I certainly took an incredible amount of time considering where I was in life, and where I wanted to be in the future, before I became a mom. But, if I'm being honest, I have to admit that sometimes and despite my previous thought process I wish I would've waited to become a mom. Turns out, there's no such thing as being 100 percent "ready" for parenthood.
After I graduated high school I watched my friends attend college, start their careers, casually date, and eventually settle down into long-term relationships that morphed into marriages. I watched them travel the world, start internships, and explore who they were as young adults going out into the world for the very first time. I did things a little differently, though. I got married right out of high school, and although we didn't have any kids and eventually divorced four years later, the decision to become a wife so early on in life certainly impacted me, my future, and my future relationship with my current husband.
My husband and I had a difficult time communicating effectively in the beginning of our relationship. We were crazy about each other, don't get me wrong, but no matter how hard we tried or what we did we couldn't seem to find common ground. But a year and a half into our relationship I found out I was pregnant, and was suddenly faced with the decision of whether or not to become a mother; a scenario that, honestly, had never crossed my mind. I was on birth control, I had landed a nice job, and my partner and I had just moved into a new apartment together, so pregnancy was not part of our plan. We knew we had so much to learn, so much growing to do, and so many relationship obstacles to overcome before we became parents. But there it was: a positive pregnancy test. I had a decision to make.
I was shocked, to be sure, but I decided that I was ready — and my relationship was ready — to have a baby. So once the initial shock wore off my then-boyfriend, now-husband and I started planning for parenthood. I became completely swept away by all things pregnancy, and focused solely on what I was going to be experiencing as a new mom. I thought about the sacrifices I'd be making, the changes I would have to endure, and all the while I suffered from extreme morning sickness, pregnancy-induced hypertension, and mandated bed rest.
As a mom, you don't always feel like you made the right decision to become a parent. That doesn't mean you love your baby less or hate being a mom.
I thought I was ready for parenthood, and then I held my beautiful baby daughter in my arms. Suddenly the realities of parenthood and all it entailed hit me like a freight train, and before I knew it I was knee-deep in diapers, sleepless nights, breastfeeding complications, and postpartum depression. I had spent time planning, researching, and preparing to be a mom, only to realize that I had no idea what I was doing. I felt lost. I felt afraid. I felt entirely ill-equipped. I felt like I had made a mistake.
I was worried I didn't take the time to establish a foundation that would allow me to stand tall and confident in motherhood. I was afraid that I had rushed into parenthood too early and at the detriment to my daughter. Honestly, I was worried I didn't deserve my daughter at all, and all of these fears were exacerbated by my postpartum depression. So for the first year of my daughter's life I endured intense guilt, shame, and feelings of profound failure. It was difficult to bond with my baby because I didn't feel I deserved the honor.
Over time, and after treatment for postpartum depression, I found my footing as a new mom and was able to feel that special connection with my daughter. My fears dissipated, somewhat, and I started to feel confident as a parent to my incredible daughter. It took some time, though, and some work, and I believe us moms should feel empowered to be more vocal about this process. It's not always "love at first sight" the moment you hold your baby. It's not always rainbows and butterflies when you're at home with an infant. As a mom, you don't always feel like you made the right decision to become a parent. That doesn't mean you love your baby less or hate being a mom. It simply means you're a human being who is capable of feeling self-doubt and fear.
When I say there are times I wish I would've waited to become a mom I'm not saying so as someone who's ungrateful for the gifts motherhood has given her. I don't wish I could go back to some child-free, reckless life because I don't like responsibilities. I just sometimes wish I would've waited to become a mom because, now that I'm a mom to two miraculous children, I know I needed more time to mature into the mother I was meant to be. I eventually became that mom, to be sure, but I can't help but wonder if I could have reached that moment sooner if I would've waited to be a mom just a little while longer.