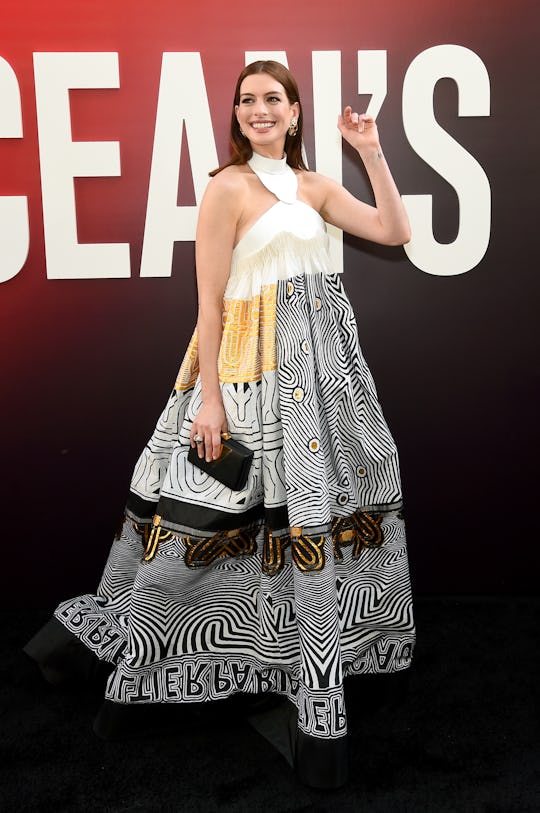 Jamie McCarthy/Getty Images Entertainment/Getty Images
How Anne Hathaway's 'Ocean's 8' Co-Stars Supported Her When She Had To Pump Is #FriendGoals
Based on interviews, it's clear that the Ocean's 8 set was a supportive love fest. The eight stars of the film, which hit theaters last weekend, have all shared anecdotes about the amazing friendships they formed while shooting. Most recently, Anne Hathaway opened up about the Ocean's 8 cast supporting her when she had to pump breast milk on set — and it's clear that every nursing mother deserves an environment like that.
This week, Ocean's 8 stars Sandra Bullock, Cate Blanchett, Sarah Paulson, Mindy Kaling, Awkwafina, and Hathaway sat down with The Today Show hosts Savannah Guthrie and Hoda Kotb to discuss the movie. Hathaway was breastfeeding during the course of shooting, as she shared during the interview, so sometimes she had to pump on set. (She and her husband Adam Shulman welcomed their first child, a boy named Jonathan, in March 2016, and Ocean's 8 started filming around October 2016, according to ComingSoon.net.)
"I was so happy because I was breastfeeding and I had that moment where I was like, 'Oh, is this going to be a positive environment to be able to do that in?' Everybody was fantastic and they understood," Hathaway told the hosts.
"It also really worked for the costume," Blanchett joked, making a large-breasted gesture. "It really did!" Hathaway responded. "My entire character was built from the chest up." She continued by telling an anecdote about when she was in pain from needing to pump breast milk. She said during the interview:
I remember there was one moment where we were shooting a little long, and I just kind of went, "Uhhh," and the girls were like "What's wrong?" And I said, "I'm sorry... I should have pumped an hour ago." And the girls just, like, formed around me, and they were like, "We need a break. We need a break. Annie needs to go do this." And it was just, like, I mean, who gets that? I mean, everybody should.
Blanchett responded to Hathaway's anecdote with another joke. "We drank the milk," she said, to the roaring laughter from the rest of the women.
Considering how many of the actresses are mothers, it's no surprise that they had Hathaway's back in that moment. And as Hathaway mentioned, every nursing mother deserves that kind of support at work.
This was not the first time Hathaway opened up about about her cast mates supporting her as she navigated postpartum life on the Ocean's 8 set. In a recent interview on The Ellen Show, Hathaway told host Ellen DeGeneres about how the cast helped her feel less insecure in her postpartum body:
I walked on the set, and, you know, my weight's a little up, and I'm just aware of it. And I walk onto set, and I'm in my jeans, and I've done my best and I'm going to love myself no matter what, and Sandy Bullock looks up and goes, "Looking good, mama!" I was like, ooh! That made me feel amazing. And then Cate Blanchett's like, "Nice jeans, Hathaway!" I was like, this is so great. And then Rihanna looks up and goes, "Damn girl, you got a a**!' And I, of course, freaked out and loved it so much. I was like, "Really?!" And she goes, "You got a a** like me!
Additionally, Guthrie and Kotb asked the gang if their kids ever visited the set, to which several of the women replied that they had. In addition to Hathaway, Helena Bonham Carter, Kaling, Blanchett, Bullock are all mothers.
"That was nice, because there are so many moms here," Kaling said on The Today Show. "It was nice to see, like now with my daughter, that they can weave into your life seamlessly."
All working moms should be able to pump milk whenever their bodies or babies need to, and it's great that Ocean's 8 provided that kind of environment for its cast. Breastfeeding at work is definitely a struggle for some moms, so having supportive co-workers like Hathaway did can be a huge help and will hopefully spread some much-needed awareness.