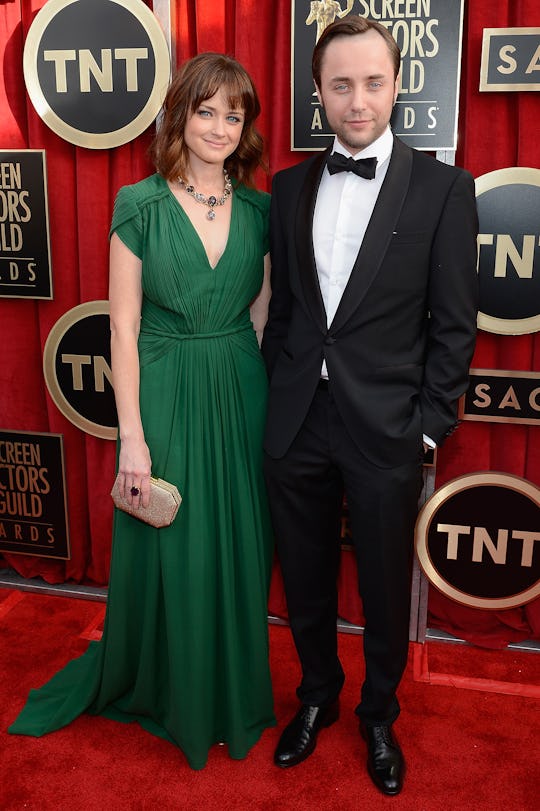 Kevork Djansezian/Getty Images Entertainment/Getty Images
How Did Alexis Bledel & Vincent Kartheiser Meet? The 'Gilmore Girls' Star Is So In Love
With the Gilmore Girls revival amping up dedicated fans everywhere, it's not hard to wonder what all of the Stars Hollow residents have been up to in the almost 10 years since fans last visited the mother-daughter duo. And when you think about it, they've all grown up, but none so as much as Alexis Bledel herself, who not only prospered in her career, but also went on to get married to a very familiar face (well, for any Mad Men fans, at least). But how did Alexis Bledel and Vincent Kartheiser meet exactly? Instead of bonding over coffee at a diner run by the town's grumpiest man with a heart of gold, or accidentally stealing corn starch from a local supermarket, the Gilmore Girls star met her husband where you would expect most actors to meet their spouses — on set.
When Bledel landed a multi-episode arc in the fifth season of Mad Men as the mistress of Kartheiser's character, Pete Campbell, the two had immediate chemistry right from the start. But according to both Bledel and Kartheiser, they chose to keep their relationship strictly professional while they were working together. In fact, it wasn't until her arc on the series wrapped that they even entertained the idea of dating each other. And it's a good thing they did, because could you imagine a more adorable couple to come out of the madness (pun intended) that is Mad Men?
Overall, Bledel and Kartheiser have been pretty quiet about their relationship, from their low key engagement to their small wedding ceremony, and even to their baby boy, who was born just last fall. But can you really blame them? Typically, keeping your relationship out of the spotlight in Hollywood is the key to keeping it normal and functioning, without tabloids coming up with outrageous gossip. So it makes sense that they'd prefer to keep that part of their life out of the public eye.
This wouldn't be the first time that Bledel has fallen for a co-star, though. When she was a younger Rory on Gilmore Girls, Bledel dated Milo Ventimiglia (Jess) for four years, from 2002 to 2006. And while every fan girl probably still writes Gilmore Girls fanfiction about the two of them, I'm kind of in love with how in love Kartheiser and Bledel seem to be. And not only did their Mad Men co-star Jon Hamm reportedly see the chemistry between them instantly, but the show's creator, Matthew Weiner, was rooting for them from the start as well. According to E! Online, Weiner said that he was one of those who urged Kartheiser to go for it. "Honestly, they're a really good match," he said. "They're both very down to earth, with a sense of responsibility and strong family ties."
Gilmore Girls: A Year in The Life might still be following the growth of Rory Gilmore, but her real life counterpart, Bledel, has obviously figured out the whole living out your best life thing.