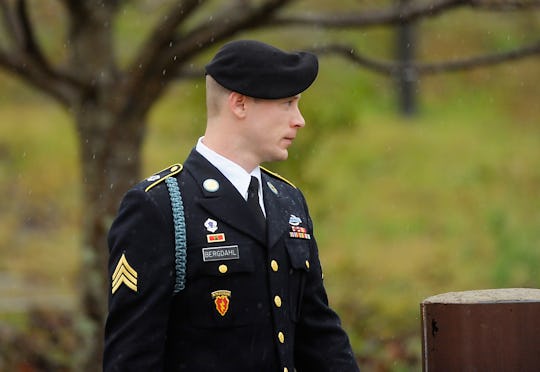 How Did Bowe Bergdahl Survive His First Year in Taliban Captivity? 'Serial' Episode 3 Describes His Experience
The second season of the critically-acclaimed podcast, Serial, has taken on a rather unique subject compared to the whodunnit of last season, the 1999 murder of Hae Min Lee; Serial season two follows the story of army Pvt. Bowe Bergdahl, whose capture in 2009 and controversial release in exchange for Taliban fighters made international headlines last year, and whose story has once again come to the media forefront with news on Dec. 14 that Bergdahl will be court-martialed by the U.S. military. Serial has taken us inside this strange narrative, including the disturbing details of how Bergdahl survived his first year in Taliban captivity — in his own words.
Host Sarah Koenig has partnered with filmmaker Mark Boal and media company Page 1 to pour through hours and hours of previously recorded interviews he conducted with Bergdahl to shape the narrative of this sophomore season of Serial. After this week's episode, "Escaping," what Bergdahl had to say about his first year in Taliban captivity is particularly difficult to listen to. Koenig frames this week's episode with Bergdahl's two attempts at escape from the Taliban, each a year apart; As Koenig puts it, "like shitty bookends to a terrible year." How Bergdahl managed to survive that first year is nothing short of astonishing.
After his first escape attempt, just a week after he had been captured, Bergdahl reveals how his captors tortured him for his disobedience by beating him with a rubber hose. His captors even took turns beating him. Sensing that Bergdahl had learned too much about where he was being held, they moved the army private to a new location. There, Bergdahl reveals he was chained to a bed, his legs spread-eagle and his arms above his head. He was only allowed to get up twice a day to use the bathroom. Shockingly, Bergdahl was kept chained to this bed and blindfolded for three and a half months. Bergdahl spoke of the ever-present anxiety that he lived with every day:
The time deprivation and too much light or too much darkness and too much randomness just wears away at you and just drives your nerves into the ground. You know, and the constant worry of alright, "am I gonna die today, or is something worse going to happen today? Am I gonna get food today or am I gonna be able to go to the bathroom without some kind of problem happening..."
Only when a guard noticed that Bergdahl couldn't walk because his legs were shaking from weakness did his captors begin strapping down one of his arms by his side as opposed to over his head. Still, he developed sores and infections from his restraints. Bergdahl was permitted to shower or wash his clothes every three or four weeks. Food was scarce and unpredictable and, as a result, he developed diarrhea that would plague him for three and a half years with no toilet paper and no access to water.
Even for Boal, who experiences the story second-hand through interviews, found Bergdahl's whole ordeal "incomprehensibly dark." He even remarks during episode three how surprised Bergdahl's psychologists were that the captive soldier hadn't turned into a complete vegetable during his first year held by the Taliban alone. So how did he do it? How did Bergdahl manage to survive through such darkness and terror?
As it became increasingly evident during episode three: Bergdahl had a reserve of sheer strength, willpower, and shocking clearheadedness and resourcefulness for someone in such dire circumstances. During his captivity, Bergdahl managed to squirrel away small items that would prove essential for his second (and ultimately failed) escape attempt: An eight-inch piece of PVC tube, a nail, and even a padlock key he could use to jimmy open the locks of his own restraints.
The rest of Serial episode three, "Escaping," goes into even more dark detail of Bergdahl's first year in captivity. Whether you're listening on your commute or your holiday travels, be prepared for a heavy listen.
Serial is available every Thursday (but not next Thursday!) at 6 a.m. Eastern.
Images: Sara D. Davis/Getty; Serial, Doyal Global Media/Twitter