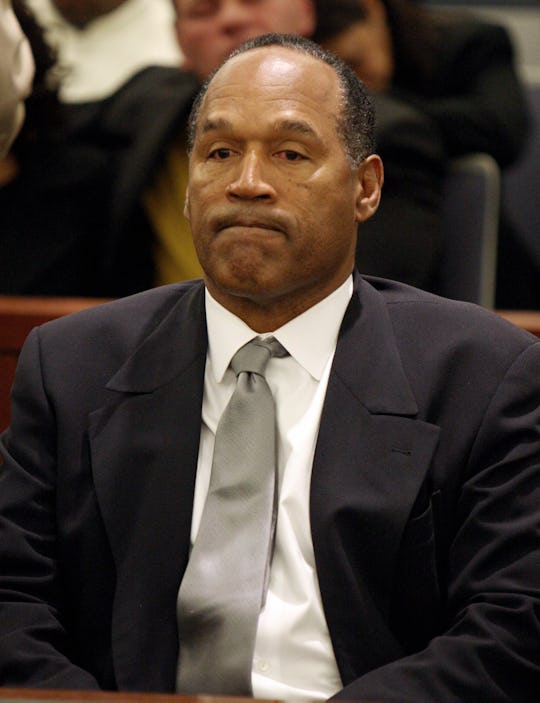 AFP/AFP/Getty Images
How Did O.J. Simpson's Daughter Die? Tragedy Struck Early In His Career
For all of the media surrounding O.J. Simpson and the crimes he's been accused of in the last couple of decades, there is little talk of the other aspects of his personal life. Namely, the life he had before he even married Nicole Brown Simpson. With his first wife, Marguerite Whitley, he had three kids, one of whom died as a toddler a month before what would have been her second birthday. So, how did O.J. Simpson's daughter die? Aaren Simpson, Whitley and Simpson's youngest child, died of an accidental drowning in the swimming pool at their home in 1979, 12 years after they were married and the same year they would be officially divorced.
Simpson and Whitley married when he was just 19 years old, hardly the football and all-around celebrity he was when he met Nicole Brown in 1977. Simpson was signed with the Buffalo Bills in 1969 and continued to play with Buffalo until 1978, when he was traded to the San Francisco 49ers, bringing him back to his hometown and the Simpson family to California, raising Simpson's star that much higher.
The two met in high school when Whitley was dating Simpson's longtime best friend A.C. Cowlings. Or, you know, the same guy who ended up driving his getaway car before O.J. Simpson's 1994 murder trial. They went on to marry after high school, while Simpson was playing football for the University of Southern California. He would be drafted to the Buffalo Bills two years later, moving them, along with their daughter Arnelle, across the country. They would later have a son, Jason, and then their daughter Aaren.
According to The New York Times, although Simpson and Whitley had multiple separations as early as 1970 and officially divorced in 1979 (two years after he had already been dating cocktail waitress Nicole Brown), there were no reports of violence or domestic issues with the couple. The move to California, with Simpson growing into a bigger and better football star and actor apparently became more lucrative to the NFL player than the high school sweetheart-born marriage he'd been in. Today, Whitley has pretty much gone ghost, and was even unreachable for the recent ESPN documentary, O.J.: Made In America.