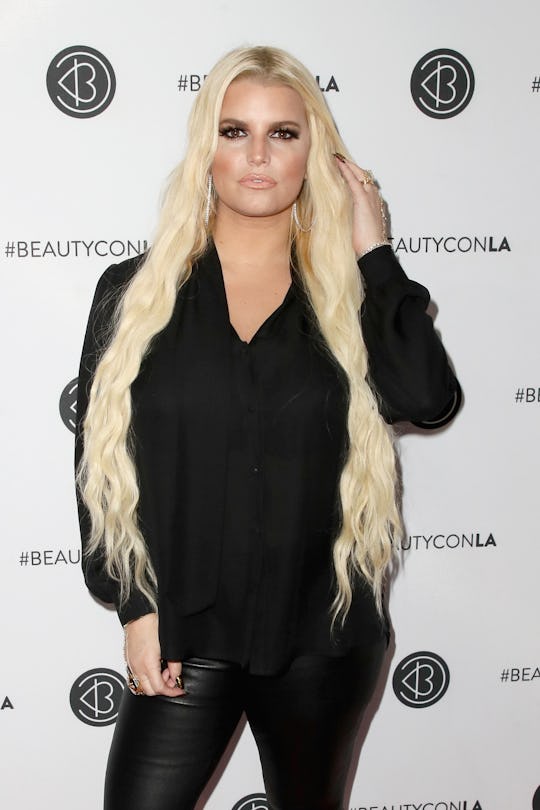 David Livingston/Getty Images Entertainment/Getty Images
Here's When Jessica Simpson's Third Child (A Baby Girl!) Could Arrive
Last month, your favorite early-2000s pop singer and shoe designer Jessica Simpson announced she was pregnant with her third child. Now that a few weeks have passed since the big reveal, fans may be wondering: How far along is Jessica Simpson? She hasn't shared her exact due date, but she has provided a few clues about when the big day might come.
Simpson and her husband Eric Johnson, a former NFL player, are clearly so excited to expand their brood. They announced her pregnancy on Instagram on Sept. 18 with a series of two posts on Simpson's profile. In the first one, the couple's two children (Maxi, 6, and Ace, 5, according to People) are clutching two black-and-white balloons on a sunny lawn. Simpson captioned the shot, "SURPRISE..." Shortly afterwards, she posted a photo of the kids standing in the same spot, surrounded by a flurry of pink balloons. "This little baby girl will make us a family of five. We couldn't be happier to announce this precious blessing of life," she wrote alongside the picture.
Most women wait until they are out of the first trimester to announce a pregnancy. So if Simpson was at least 12 weeks pregnant when she announced the news on Instagram, she is likely at least four months along right now, putting her due date in March or April.
Why do most women wait until the first trimester is over to announce they are expecting? According to BabyCenter, the chance of having a miscarriage severely decreases once a pregnancy is about 12 weeks along. Additionally, this is also the point that most women begin to develop a noticeable bump (though it is also completely normal for that to happen sooner or later than the 12-week mark, since all bodies are different), so it makes sense for expectant parents to start sharing the news around then.
Just a few hours after announcing her pregnancy, Simpson also shared a photo of herself lovingly cradling her bump, as Fox News reported at the time. "My Baby Love," she captioned the photo.
In addition to the glamorous solo shots, Simpson has also shared a few looks into the less-than-glamorous side of pregnancy. Last week, she posted a photo of herself icing her feet with bags of frozen mashed potatoes, captioning it, "When you're pregnant and have to ice your swollen feet before the flight." Then, over the weekend, she tweeted another shot of herself icing her feet on another variety of frozen food. "Frozen White rice and Brussel Sprouts for the win tonight #pregnantladyproblems," she tweeted. (Simpson is one resourceful mama.)
Swelling of the feet (aka edema), affects about 75 percent of pregnant women, and typically begins between the 22nd and 27th weeks of pregnancy (that's around the end of the second trimester), according to What to Expect. That could indicate that Simpson is around the end of her second trimester, but it could also just mean she is experiencing edema on the early side.
No matter when Simpson and Johnson's baby decides to make her debut, one thing is for sure: she is going to be so loved by her parents, her brother, and her sister.