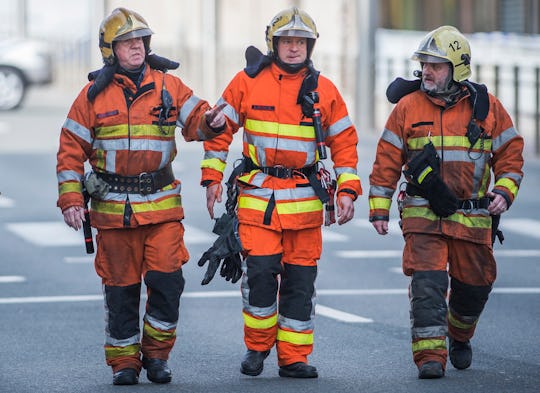 LAURIE DIEFFEMBACQ/AFP/Getty Images
How Many Attackers Carried Out The Brussels Attacks? Officials Are Searching For Answers
Early Tuesday morning, March 22, three separate explosions echoed through two of Brussels' key commuter locations. Early reports indicate that the two separate suicide bombings left upwards of 30 people dead (and that number is expected to grow) and hundreds more wounded. Officials are searching for answers, namely, who's behind the explosions, and how many attackers carried out the Brussels attacks? The first attack, which involved two separate explosions, took place at Brussels' Zaventem Airport, according to TIME. Witnesses at the scene told Belgian media that the blasts took place near an American Airlines check-in desk, though that has yet to be confirmed. An hour later, a second attack took place at Maelbeek Metro station, leaving 15 dead (a number, unfortunately, officials also expect to rise). The attacks come just days after officials arrested Salah Abdeslam and he was charged for his involvement in the Paris attacks.
Update: ISIS has claimed responsibility for the terror attacks in Brussels Tuesday.
Because officials are in the early stages of gathering and collecting information, it's too soon for an answer on who was behind the attack and how many people were involved. Because of the nature of the explosions and the bombings, and the fact that they followed Abdeslam's arrest so closely, many are wondering if ISIS was behind the Brussels attacks? According to reports, an NBC News counterterrorism confirmed that ISIS is a major suspect in the Brussels attacks, however, it's too soon for answers.
In an interview with CNN, Belgian federal Prosecutor Frederic Van Leeuw noted that of the two explosions at the Zaventem Airport, at least one was a suicide bombing. Early reports from an airline official who spoke with CNN also indicate that the blast happened outside of the security checkpoints for ticketed passengers. The presence of a suicide bomber means that there was at least one attacker involved at the airport bombing, though it's not yet known if the second explosion was also carried out by a suicide bomber. Shortly afterward, a second attack (and third explosion) took place at the Maelbeek Metro, a "key metro hub" because it services the modern headquarters for the 28-nation European Union, TIME notes. Details are not yet known who (if anyone) carried out the Maelbeek explosion.
In response to the attacks, all of Brussels' metro stations were immediately closed, and the city's airport was evacuated. Officials also raised Belgium's terror level threat to four, its highest, which, according to CNN, means that army soldiers can be sent out into the city to help meet Brussels' security needs. EuroStar, the railway that runs between England and Belgium, has also suspended service from London to Brussels in the aftermath of this morning's attacks.
In a statement given by NATO Security General Jens Stoltenberg to CNN, Stoltenberg said, "This is a cowardly attack, an attack on our values and on our open societies. Terrorism will not defeat democracy and take away our freedoms."