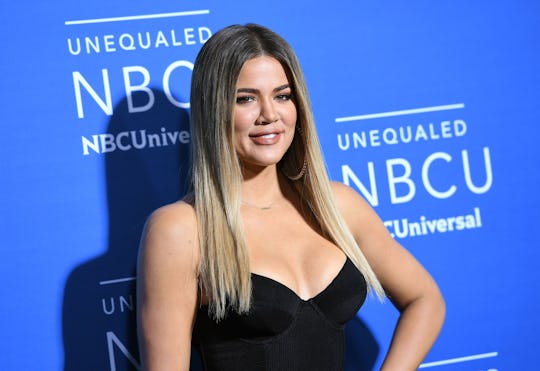 ANGELA WEISS/AFP/Getty Images
How Many Kids Does Khloe Kardashian *Actually* Want?
After years of being the fun "wild" Aunt Koko to her little army of nieces and nephews, Khloé Kardashian is reportedly about to become a mom herself. At least, that's the word on the street, as the reality TV star and fashion mogul hasn't officially confirmed the fervent reports that she and her boyfriend, Cleveland Cavaliers star Tristan Thompson, are expecting their first child together next year. Still, it couldn't be more obvious that the youngest Kardashian sister is excited about one day adding her own little ones to the burgeoning next generation of the Kardashian-Jenner empire. The question, really, is how many kids Khloé Kardashian wants — because any Khloé fan knows that, if the rumors are true, she's already getting her baby-to-be's nursery ready and designing the cutest, tiniest Good American baby outfits ever .
To sleuth out the answer to that question, let's start at the only logical place: A recent Keeping Up with the Kardashians storyline in which Kardashian was freaked out to learn at a doctor's appointment to learn that she might not even be able to have kids. Luckily, the abnormalities the doc spotted turned out to be the result of the birth control the now-33-year-old was taking, and everything turned out to be totally OK. But the whole stressful incident seemed to get her thinking even more about the prospect of starting a family.
In a subsequent episode of the family's E! reality show, which aired in June, the youngest Kardashian sister revealed that Thompson "wants to have kids now" and the possibility was on the couple's radar. And, yes, she did mention numbers:
Tristan and I definitely talk about starting a family. He wants to have five or six kids with me and that's lovely. We could start at one and we could grow from there. But now knowing I'm not on birth control is just like — it's scary. It's like a really big step.
Five or six kids sounds like a lot, of course, but Kardashian really, really loves kids. In a 2015 post on her website, she shared that the four young nieces and nephews she had at the time — including sister Kim Kardashian West's daughter, North, who's now 4 — all hang out at her house three or more times every week. It's the perfect opportunity for Kardashian, who described herself in the post as "naturally really energetic and especially so with kids" to "spoil them rotten with Lucky Charms and cookies."
But even if Kardashian only ever has one kid, which is where she mentioned she wants to start, there will be no shortage of Kar-Jen cousins to take over the reality show empire when the time comes. Kim Kardashian West recently confirmed that she and husband Kanye West are expecting their third child — reportedly via surrogate, if persistent reports are true. And news surfaced last month that 20-year-old Kylie Jenner is reportedly getting ready to welcome her first with boyfriend Travis Scott.
Romper has reached out to reps for both Kardashian and Jenner regarding the pregnancy rumors, but has not heard back at this time.
Still, I'm kind of hoping that Kardashian and Thompson do decide to go the full Brady Bunch route and have a half a dozen kids themselves. After all, Kardashian has shown over and over again just how much she loves kids — she even recently said that she and her sisters were having "so much fun helping raise each other's kids," according to E! News, and that was before news even broke that she might be expecting.
However many kids Kardashian ultimately chooses to have, she will be an absolutely fantastic mom. All her nieces and nephews can certainly vouch for her on that one.
Watch Romper's new video series, Romper's Doula Diaries:
Check out the entire Romper's Doula Diaries series and other videos on Facebook and the Bustle app across Apple TV, Roku, and Amazon Fire TV.