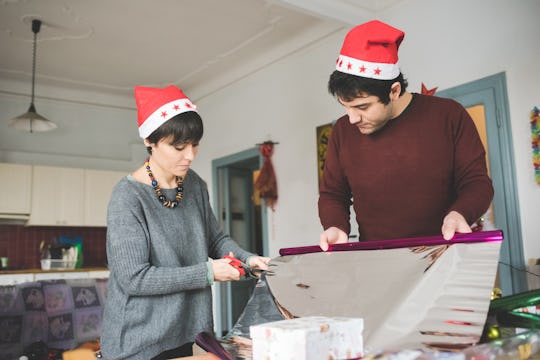 Shutterstock
How To Ask Your Partner For Help If You're Overwhelmed This Holiday
Sure, it might be the most wonderful time of the year, but it's also by far one of the most stressful seasons, too. And sometimes it doesn't take a whole lot to start a fight during the holidays. From your partner placing the star on the tree crookedly, or forgetting to mail the family's Christmas card, suddenly, boom: It's game on, Grinches. Thing is, as much as you might want to do it all yourself, you just can't. That's when you need to know how to ask your partner to help this holiday season when you're feeling overwhelmed.
Chances are, you might not even realize that you're feeling overwhelmed. But if you consistently feel out of control, stressed, sad, (or worse, angry and agitated), then there's a good chance that you could start spiraling, warned Help Guide. "Asking for help can be overwhelming because you may want your partner just to know what needs to be done," Dr. David Simonsen, Ph.D., LMFT, a psychologist and licensed marriage and family therapist, tells Romper. "This 'mind reading' will cause fights between you and your partner." That's why learning how to communicate effectively when it comes to your needs can help your relationship, no matter what time of year it is.
So learn how to divvy up the holiday duties — and ditch the disagreements — with these tips.