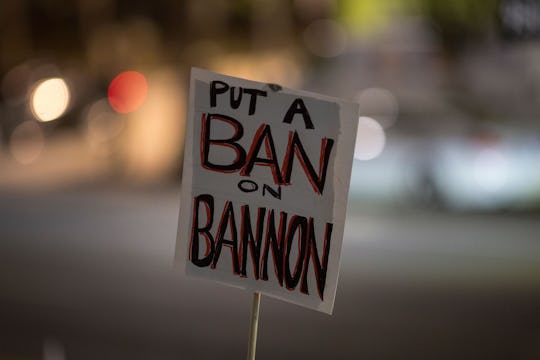 DAVID MCNEW/AFP/Getty Images
How To Call Your Congressman About Steve Bannon, Because It Sends A Strong Message
The appointment of onetime Breitbart News president Steve Bannon as chief advisor to the soon-to-be most powerful man in the world is the culmination of the racist, xenophobic, and misogynistic campaign Donald Trump ran. He's been criticized as an unabashed white nationalist (which he denies), and he's now positioned to be one of the most influential voices in the president's ear. And just as the wildly offensive rhetoric that infected Trump's public declarations during the election season did, this fact has those who reject the ideas that "The Confederate Flag Proclaims a Glorious Heritage" and "Birth Control Makes Women Unattractive And Crazy" —two actual Breitbart headlines — on edge. Now, many of them are calling their representatives in Congress about Steve Bannon and the threat they claim he poses to our society, and they want you to do the same.
Bannon is in the process of transitioning from his post as CEO of the Trump campaign, which he took over in August, to that of the go-to strategist in the White House, a non-Cabinet role that does not require Senate confirmation. But considering Bannon's unobscured and frequently vocalized hatred for Jewish people, African Americans, Asians, women, and so many other minority demographics, staying silent just because the situation is unlikely to change is not an option for many. Even as 169 House Democrats signed a letter to Trump imploring the president-elect to rescind the power he's given Bannon, state legislators across the country are being inundated with similarly concerned and dismayed calls from constituents.
Of course, the fact that many American people disapprove of the notion of Bannon being permitted to even step foot in the White House won't change the outcome. But simply taking the time to determine who your representative in Congress is (by following this link and typing in your ZIP code), you can help to arm him or her with the the information of widespread disapproval needed to pressure Trump in the future, and to communicate to him "that he's not going to get a pass on a lot of his decisions, that people are watching and they're going to try to hold him accountable," Michael Gerhardt, a scholar in residence at the National Constitution Center, told Quartz.
The actual process of calling also couldn't be easier, as advocates of this line of resistance — among them Emily Ellsworth, a former Congressional staff member who's said that calling is the most effective way to get the politicians' attention — are circulating prewritten scripts callers can use use as a jumping off point. Here's one that's making the rounds on Facebook:
Hi, my name is [Your Name], and I'm a constituent of [Representative's Name]. I live at [Your Address]. I'm calling to ask [Representative's Name] to make it a priority to pressure Paul Ryan to pressure Donald Trump to remove Steve Bannon, a known white supremacist, from the position of Chief Strategist. Bannon is a dangerous man.
Or, you can take a cue from Lena Dunham, who called and left a voicemail for Speaker Paul Ryan directly, as she documented on Instagram:
Some politicians — especially Republicans, who share a party and therefore a voter base with Trump — are uninterested or unwilling to condemn Bannon, even if they do privately agree that his alleged white nationalism deserves no place in our government. Others, like California representatives Barbara Lee and Dianne Feinstein, are just as fired up as their constituencies are. In a statement on the appointment of Bannon, Feinstein condemned the racially fueled incidents of violence, harassment, and intimidation that have plagued this country since Trump's election, and warned that the installment of a propagator of hate in the White House will only make this problem worse — and gave a shoutout to those calling in:
Hiring Steve Bannon as a senior advisor in the White House will only further inflame these fears. Virtually everyone who has contacted my office has expressed shock that Bannon, so closely linked to anti-Semitic and misogynistic opinions, will have the ear of the president.
Diverse communities must be brought together by leaders, whether it's a city or a nation. We must work to heal differences, not allow them to fester and devastate our society. Being a leader means representing everyone, not just one constituency.
Calling your rep in Congress won't make this impending nightmare of an administration go away. On that same note, the installment of unchecked bigotry into the White House won't erase the millions of people appalled by that ideology, and it will remind them again and again and again that so many people out here are ready to fight like hell.