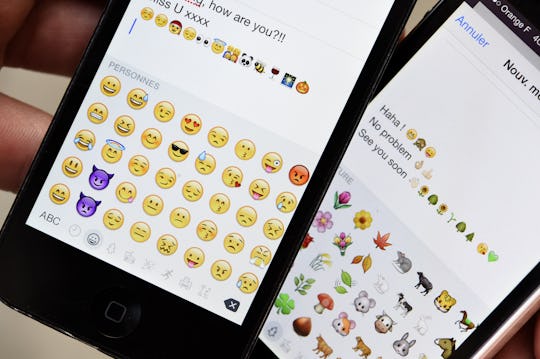 MIGUEL MEDINA/AFP/Getty Images
How To Change Facebook Emojis On Android Devices
The tech savvy (and cellphone addicted) take their emojis SERIOUSLY. It's understandable, really, if you think about: In an internet landscape covered in the likes of lol, omg, and tbh, and various other abbrevs (#millennials), we're always looking for the quickest, snappiest, and most universally engaging ways to communicate. And lucky for us, Facebook recently updated its emojiverse to make them more diverse, as well as to standardize them across across operating systems in its Messenger app. It's hard to argue with a development that ensures that your iPhone emoji won't get bungled and show up looking different on a friend's Samsung Galaxy screen. But maybe that friend wants control over his emoji options, so he may wonder how to change Facebook emojis on Android devices, no matter how clearly you told him he's the best with a bomb emoji and offered to take him out for a drink, complete with the clinking beer glasses emoji.
When Facebook announced its new emoji options June 1 via — what else? — a Facebook post, many applauded the new diversity, as the updated emoji keyboard includes characters of varying skin tones, as well as women in actual active roles, so I can now use a running woman emoji to let everyone know what I plan to do... later.
Others weren't so psyched about the more than 1,200 new emojis, whether they were just feeling resistant to change or weren't digging their new flat, cartoonish look. And those people wanted their old Facebook emojis back.
Just as Facebook's latest update made all the emojis look the same across platforms, it sought to make the process of changing them uniform, as well. To streamline the process of banishing the new emojis for all users, Facebook established just one, although Android users initially reported having trouble with it. The company pledged, though, to remedy the glitch soon, so here's the step-by-step guide for both iPhones and Android devices, according to MobiPicker:
Launch the Facebook Messenger app on your device (remember, it cannot be turned off on desktop).
Tap the "Me" tab at the bottom and choose the Photos and Media option.
There will be the Messenger emoji button. Just turn it off.
You will now be able to use the standard emoticon and emoji of your device instead of the new Facebook Messenger emoji.
Voila! Now your stick-in-the-mud friend should have those old emojis back, but he's really missing out on a cartoon utopia. Because professional women emoji are still just in the works on regular cellphone keyboards, but they're now all the rage on Facebook Messenger. And in case you haven't heard, Hillary Clinton is now the first woman to the presidential ticket of a major political party, a historic milestone that shows that these emojis really are "representative of the world we live in," as Facebook said. Who would want to back out of that?