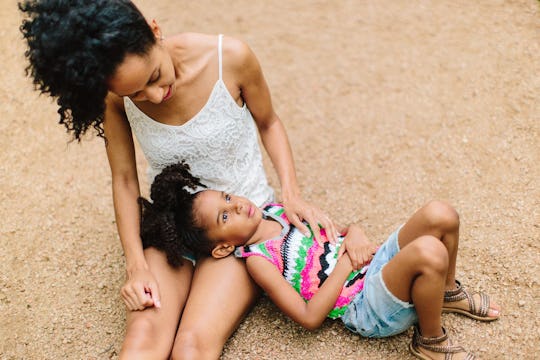 Kristen Curette Hines/Stocksy
These Tips For Talking To Your Toddler About Death Will Make It So Much Easier
Forget about the birds and the bees. The talk that most parents dread having with their small children is the one about death. It's an uncomfortable subject that many people don't want to deal with, much less try to talk to a child about. I mean, how do you really explain death to a toddler? It's a subject that none of us truly understands in the first place.
At some point, though, you're going to have to have this particular discussion. Whether it's a grandparent, a family friend, an aunt or an uncle who suddenly passes away (or a beloved pet pooch), it's kind of an inevitable occurance. So why is it such a cringe-worthy convo? Well, because when you do explain death in real terms, it's going to get your child thinking. And when she gets thinking, she's going to start asking questions. The first question she'll probably ask is, "Mommy, does that mean you're going to die?" (Cue the heart palpitations.) And then, it's most likely going to be followed up with the one question NO parent wants to answer: "Mommy, does that mean I'm going to die?" (Cue the full-on anxiety attack.)
When my two older children asked me this question years ago, I did what any self-respecting mama bear would do. I flat-out lied. "No, sweetie, you're neverrrr going to die." And no, that's not a typo. I stretched out the word "never" for like a full five seconds. But I probably shouldn't have fibbed, according to Dr. Fran Walfish, a Beverly Hills family and relationship psychotherapist, and author of The Self-Aware Parent. "Dealing with the loss of a close loved one is traumatic and a uniquely individual experience for children as well as adults," says Dr. Walfish. "It should be done honestly and openly." So without using me as any sort of guideline, here are some expert tips for when you have to explain death to a toddler.