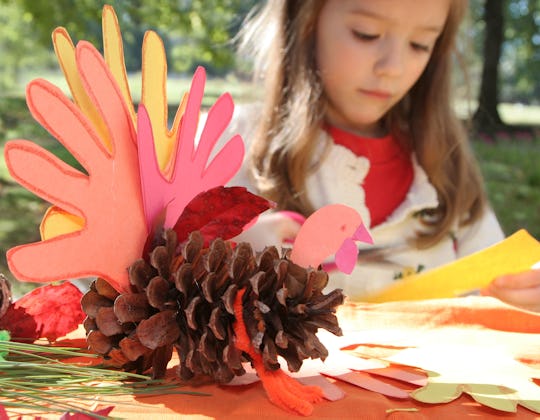 Terrie L. Zeller/Shutterstock
How To Explain The True History Of Thanksgiving To Your Kids
Back when I was in 2nd grade, my class dressed up like Pilgrims and Indians when it was time to discuss Thanksgiving. These days, that just wouldn't fly. There are so many better ways to explain the true history of Thanksgiving to your kids, while still being creative and not culturally inappropriate.
Overall, the holiday has morphed into a gathering with loved ones over an amazing meal, while expressing gratitude for all that you have. Of course, that doesn't mean that you should completely gloss over not-so-great cultural roots of the day. Most people know, as confirmed in Indian Country Today, that Plymouth colonists and Wampanoag Indians ate a feast together in 1621 after the Mayflower arrived at Plymouth Harbor that previous December. They ate deer — not turkey — and the Wampanoag were generally pretty accepting of the pilgrims who dined with them. It was many, many years later that President Abraham Lincoln decided to declare Thanksgiving, as the world knows it, as a national holiday. But, it was Lincoln who also decided to tell this "peaceful version" of the story to others during the Civil War.
What people then believed to be Thanksgiving actually took place over three nights, according to History.com. And although it sounds incredible, there were still a few questionable moments then and during later years that you shouldn't gloss over. For one, the colonists started claiming land that wasn't really theirs to begin with, and many of the original land dwellers were kept as slaves. In fact, according to Huffington Post, the term "Thanksgiving" was once credited to John Winthrop after the slaying of 700 Pequot Indians by colonists. Even during that Wampanoag venison feast, the new settlers were a bit aggressive and saw the Indians as savages, despite their willingness to help and protect. These events are pretty upsetting, which is why they are often glossed over.
In order to keep the spirit of the holiday alive without furthering the lies, here are a few tips on explaining the real history of Thanksgiving to your kids.