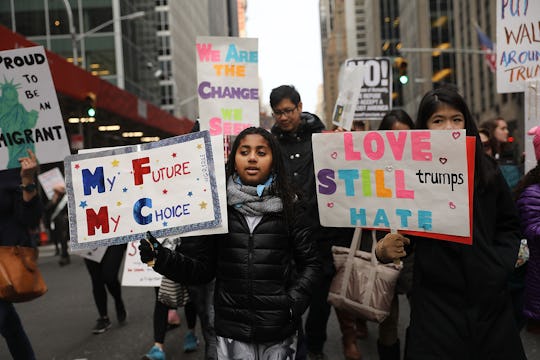 Spencer Platt/Getty Images News/Getty Images
How To Get Involved In Local Politics When You're A Parent
Everything that we touch, eat, do, wear, and buy is directly impacted by politics. As the saying goes, "the person is political." Where we live, how we talk, what we have access to, and even what our cities look like are a direct result of political actions. Which is why parents can, and should, get involved in local politics to help their children thrive. Because, just like us, how our children will live and enjoy their lives is directly impacted by their government, too.
While it's important to vote, making your way to the ballot box isn't the only way to be politically active. Direct action and civic engagement can take many forms, and you can participate in the politics of your community 365 days a year. And while it's the "big elections" that usually receive the most attention (like the upcoming 2020 presidential election, for example, or the unprecedented 2018 midterms), getting and staying involved in local government can lead to progress in ways that start as a ripple and evolve into waves of change; a change that everyone, including people outside your community, can benefit from.
As parents, getting involved in local government can even impact our child's lives for the better. Sure, it's not always easy to stay politically active when you're caring for a child or children, but it's vital that, as parents, we remain politically vigilant to ensure that our children will have access to the future we know they deserve.