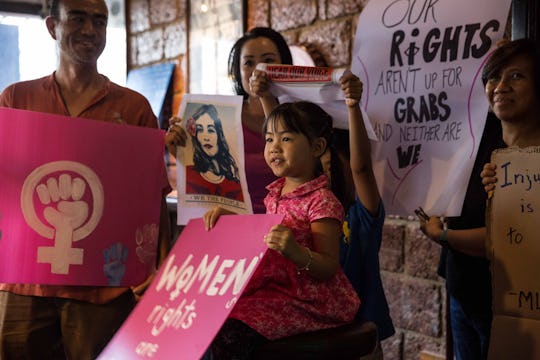 Lauren DeCicca/Getty Images News/Getty Images
8 Ways Your Kids Can Get Involved In Activism Before They're 10-Years-Old
As a parent, there are very few things I can say I know for certain. Every day is, for lack of a better word, a mystery. Sure, I can plan, but life doesn't seem to care all that much about how thought-out my schedule may or may not be. I just don't know, for sure, what each day will bring. What I do know, however, is that my kids will always vote, in every single election. My kids will make their voices heard. And because there are numerous ways to get your kids involved in activism before they even turn 10, your kids' voices will also be loud and clear. According to the U.S. Elections Project, approximately 43 percent of eligible voters didn't bother leaving their homes during the 2016 presidential election and actively chose to not exercise their right to vote. That is almost half of eligible voters. Would things have been different if those people actually made it to the polls? We'll never know.
Activism was never really something that was taught to me. My mother had always been an avid consumer of politics, but she never really discussed anything with me. It wasn't "polite" for women to speak openly about such things. I've always had my own agenda, though. I've always had a burning desire to do something, to help someone, to fight for those who couldn't fight for themselves. I was also a teenager and — more often than not — my attention was elsewhere and my activism gene was significantly underdeveloped.
I began dabbling in activism in college (could I be any more of a cliché?). I went to anti-Iraq war rallies. I protested the re-election of George W. Bush. And I started learning more about local government. But even with all of that, I was still a white girl from the suburbs who, you know, had her own "struggles." The actual, real struggles of others were secondary. Also, since I am being perfectly honest, I never thought one person with virtually no resources (financial or status) could accomplish any real change, so I figured why even try, right?
Barack Obama was elected President when I was pregnant with my daughter. I cried from joy and, in some ways, I did not understand why I had such a significant emotional response. President Obama's election, for the first time, gave me hope for progress. His leadership, his poise, his message, and his presence made me believe in a better future in our country; a future where all men and women can finally be equal. Or at least, where all men and women would work together towards equality.
Then last year happened and all of my dreams and hopes came to a halt. And while I wanted to retreat into a hole of despair (and temporarily did) I did not succumb to complacency. I signed up for the Women's March. I wrote and I spoke out. I'm watching the people of our country fight for our freedoms and for our equality, now more than ever before. And I am seeing a trend among young people who are getting involved in politics and social issues and activism. Forty-nine percent of Millennials voted in the 2016 election vs 46 percent in the 2012 election, according to The New York Times. Young people today are getting more involved in their communities and in issues facing them, their friends, their family members, and strangers they will never meet. That gives me hope. Young people are woke and this is why it's important for us, as parents, to teach our children about activism from the time they are old enough to understand.