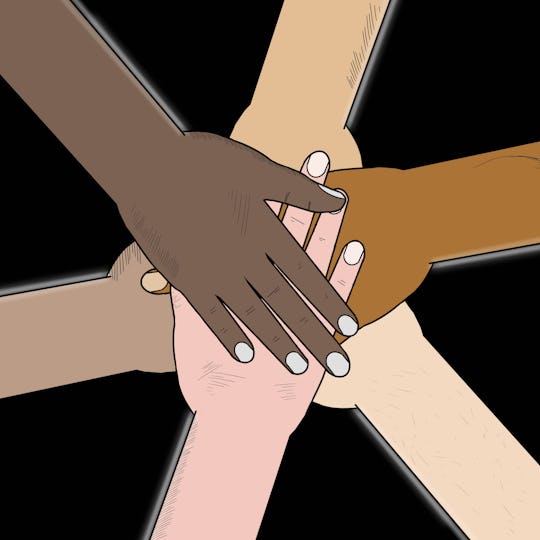 Shutterstock
Wear Purple & 7 Other Meaningful Ways You Can Support Your LGBTQ Friends On Spirit Day
For the past nine years, the third Thursday in October is meant to be met with a sea of people wearing the color purple to celebrate and support young members of the LGBTQ community. While one way to show your support on Oct. 17 is by wearing purple, there are many others way you can participate in Spirit Day because LGBTQ youths still need to know they have our love and support, perhaps now more than ever.
Spirit Day was the brain child of Brittany McMillan, who came up with the idea as a high school student back in 2010. At the time, McMillan was concerned over the rising number of deaths by suicide in the young LGBTQ community and wanted to show her support for those affected by wearing purple to school. She invited her friends to join her, and eventually GLAAD (Gay and Lesbian Alliance Against Defamation) took up the reigns of the campaign McMillan started, as she explained to Fortune in 2018, as a way "to make just one person to feel better about his or herself, to feel safe in their own skin, and to be proud of who they are."
And GLAAD had carried on this message since then. "Whether it be from elected officials in the White House, or from people in their own communities, LGBTQ youth are disproportionately affected by bullying on a daily basis," Mathew Lasky, Director of Communications at GLAAD tells Romper. "Spirit Day is an opportunity to flip that narrative on its head and send millions of empowering messages to LGBTQ youth that they are loved, accepted, and valid. In a united stand against bullying, Spirit Day also sends a powerful statement to bullies everywhere that we refuse to live in a world where LGBTQ youth feel unsafe or unwelcome."
So how can you participate in Spirit Day and make someone feel safe, welcome, and loved? Here are a few ways: