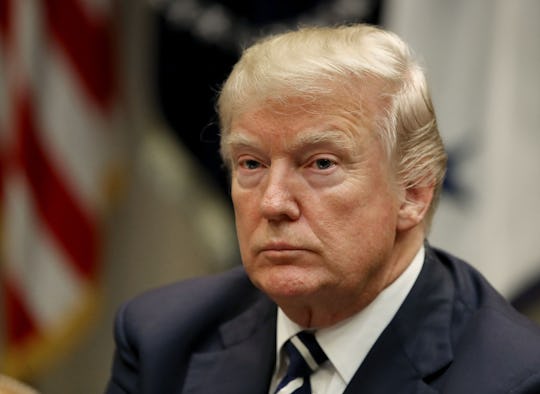 Mark Wilson/Getty Images News/Getty Images
Here's How To Stream The 2018 State Of The Union... Or Uniom?
Last week marked a year since Donald Trump was sworn in as president of the United States. And on Tuesday, Trump will deliver his first official State of the Union Address of his so-far controversial presidency. Plan to watch his speech? Then here is how you can stream the 2018 State of the Union — or the State of the Uniom, according to the official SOTU tickets — because it's bound to be a dozy of an experience.
The 2018 State of the Union will start at 9 p.m. Eastern Time on Tuesday, Jan. 30, which all major cable and broadcast networks are scheduled to broadcast, according to Metro. Trump's address in front of Congress will also stream live on Facebook, as well as on the White House YouTube channel. CBS will also have a live stream of the "red carpet" and Trump's speech here; you can watch on C-Span here; CNN will also be live streaming the event on its website.
During the SOTU, Comedy Central's The Daily Show with Trevor Noah and The Opposition with Jordan Klepper will also air back-to-back live episodes, which will also stream on Facebook Live, according to Deadline. Both hosts plan to provide commentary during Trump's evening address.
Trump's address on Tuesday evening will be his first proper State of the Union as president. The speech Trump gave last year in front of a full Congress was a joint address in which he ran through his "vision for America," according to NPR. Traditionally, a new president does not give a State of the Union Address in their year because, as CBS News noted, they are not expected to know how the country is fairing just a few weeks into their first term.
But a lot has happened over the course of Trump's first year in office. There's the travel ban(s), all of the people he's fired, his endless tweeting, his racist comments, egging on a nuclear war through social media, the Russia investigation, censoring the U.S. Centers for Disease Control and Prevention, and banning transgender people from the U.S. military. And that's only a handful of actions that have happened since Trump's inauguration on Jan. 20, 2017. Hell, half of those things happened within his first six months as president.
It's precisely because of those actions, though, that makes Trump's first official State of the Union an important one to watch. How the president will spin the events of the last year will be interesting — and most likely infuriating — to say the least.
Furthermore, the response to Trump's State of the Union address to Congress also make his speech a powerful one to watch. A group of Democratic women have decided to wear all black to the SOTU in a sign of protest and show of solidarity with the #MeToo and Time's Up movements. The planned protest, spearheaded by the House Democratic Women's Working Group, was announced days after actors, Hollywood executives, and activists wore all black to the Golden Globes on Sunday, Jan. 7, according to CNN.
Democratic Rep. Jackie Speier of California, who has led the renewed #MeToo movement in Washington, D.C. told CNN of the statement planned for Jan. 30,
This is a culture change that is sweeping the country, and Congress is embracing it.
The guest list for the State of the Union is equally as controversial as the subject matter. It includes but is not limited to the parents of two girls who were murdered by MS-13, a criminal gang that many mistakenly try to use as an example of why South American immigrants are dangerous to the United States; an Immigration and Customs Enforcement investigator; and a couple who adopted a baby whose parents suffered from opioid addiction, according to the White House website. Democrats are bringing dozens of young immigrants and DREAMers to make a statement about Trump's stance (as confusing as it is) on Deferred Action for Childhood Arrivals (DACA), a sexual assault survivor, and Bill Nye the Science Guy (yes, this is not a joke), according to NPR.
Trump's first State of the Union is highly anticipated, and expected to be unforgettable in its own way. Make sure you tune in with millions of other people in the United States and around the world, whether it's through your television or on your laptop.
Check out Romper's new video series, Romper's Doula Diaries:
Watch full episodes of Romper's Doula Diaries on Facebook Watch.