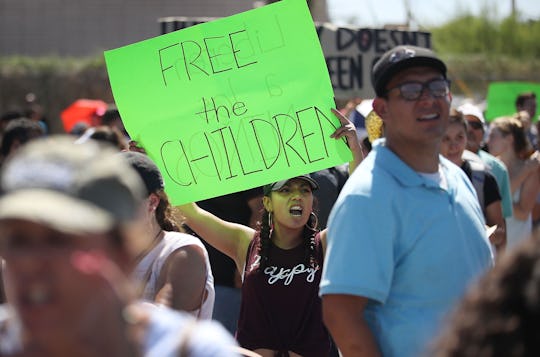 Joe Raedle/Getty Images News/Getty Images
Here's How You Can Support The Families Belong Together March If You Can't Attend
On June 20, President Donald Trump heeded the cries of an outraged nation and signed legislation to reverse a policy enacted by his administration that led to thousands of immigrant families being separated at the border, according to CNN. Despite reversing the policy, the news outlet reported that as of this weekend more than 2,000 children were still in custody and not with their parents, which is part of what has prompted people to continue to protest. On June 30, protesters will indeed be marching in Washington, D.C. and at countless other protests across the nation, but if you can't attend on of there, here's how to support the Families Belong Together March and make sure your voice is still heard.
MoveOn.org reported that there will be Families Belong Together events in many major cities in the United States, an event that the organization is hosting in collaboration with groups such as the National Domestic Workers Alliance and the American Civil Liberties Union. "The executive order that Donald Trump signed today is not a solution to the crisis created by his administration; it keeps kids imprisoned indefinitely, and doesn't reunite thousands of separated families," MoveOn reported last week. "But it does show the administration is reacting to public pressure, so we will continue to increase our pressure for justice at hundreds of events on Saturday, June 30, to say that families belong together — and free."
If you are unable to attend, there are still many ways to show your support, either monetarily or sharing information. Here are some ways to get started.
1. Donate To Help Send A Community Member To The March
The New Jersey Alliance for Immigrant Justice, Make the Road New Jersey, New Jersey Working Families Alliance, New Labor, Central Jersey Coalition Against Endless War, Wind of the Spirit, Women for Progress and others have come together to create a donation page on which you can offer money to help a member from their community attend the march in Newark, New Jersey.
To get there from New Brunswick (where the group is meeting) train tickets are $19.50 round trip for adults, $8.70 round trip for seniors, and free for children.
2. Sign MoveOn's Petition To Stop The Separation Of Families
The same organization that began the march also has a petition on which you can digitally sign and express your support. The page reads:
The Department of Homeland Security (DHS) under Secretary Nielsen's leadership has been tearing children apart from their parents to scare others from coming to our borders. There's no justification for this practice. These families and children aren't threats to our safety. They're often fleeing unspeakable violence and persecution in their home countries. Many are from Central America, home to some of the most dangerous countries in the world.
3. Donate To Help With Low-Cost Legal Services For Immigrants
RAICES is just one of the organizations in Texas working to provide low-cost or free legal services to immigrants who have been separated from their children at the border. Celebrities like Eva Longoria have already expressed their support for this organization and ones doing similarly admirable work.
"Families belong together which is why we must do what we can to reunite them. That's why I am supporting @raicestexas and @aclu_nationwide to help fund legal services for separated families," Longoria shared on a recent Instagram post.
4. Contact Your Congressperson Or Member Of Local Government
You can find out who represents you in the House of Representatives and their contact information on House.gov, or by calling (202) 224-3121, which is the direct line to the U.S. Capitol. Once you're in contact with your representative, you can request that they take a stance on ensuring that children are reunited with their families.
5. Stay Vocal On Social Media
If nothing else, use the platform that you have to share important information with others. Whether that means starting a conversation with someone who may not understand just how dangerous and harmful it is to separate kids from their parents, or even brainstorming with your friends on how you can have more of an impact in your own community, being consistent in sharing your support and, at times, outrage, is absolutely a form of social justice.