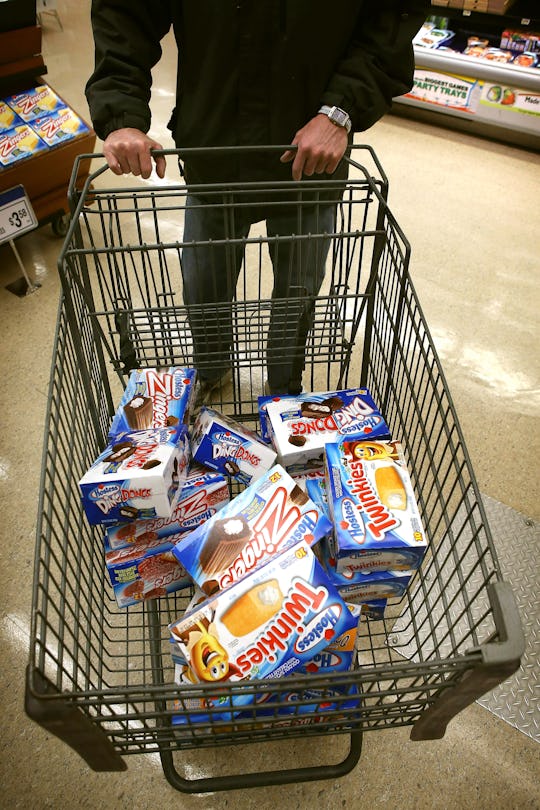 Scott Olson/Getty Images News/Getty Images
How To Tell If Your Hostess Snacks Have Been Recalled
If you've got a kid with a peanut allergy, beware: Hostess, manufacturer of sugary confections like Ding Dongs and Zingers, has issued a voluntary recall after discovering that there may be "undeclared peanut residue" in some of its cake and donut products. So, for most people, the treats are still perfectly safe (if not exactly healthy) to eat, but could pose a real threat to someone with peanut issues. Already, Hostess is reporting that it knows of two allergic reactions associated with the products, so for the parents of a kid with both a sweet tooth and a peanut allergy, it's important to know how to tell if your Hostess snacks have been recalled.
With all the listeria-related food recalls that have been going on lately, you know the drill: head to the FDA's handy list of recalled products to compare the UPC numbers, batch numbers, and best-by dates with what may be in your pantry. In this case, the list includes 710,000 cases of snacks, because Hostess' supplier recalled its flour after discovering peanut residue in it. The products recalled are single-serve and multi-pack boxes, as well as bagged donuts, and they were sold throughout the United States and Mexico.
For the past couple of months, an outbreak of the potentially-deadly contaminant listeria has prompted the recall of hundreds of brands of frozen vegetables, fruits, and other products across the United States and even in parts of Canada. As is true for the Hostess products, most of these products — sold in national favorite stores like Trader Joe's, Costco, Walmart, and Safeway, to name a few — were recalled out of an "abundance of caution" in order to most effectively protect the consumers, as well as the brands' reputations. And Quaker Oats has issued two rounds of recalls of some of its granola bars over similar listeria concerns.
Luckily, Chocodiles and glazed mini donuts are less of a dinnertime essential than frozen broccoli or spinach, and peanut residue would adversely affect many fewer people than a listeria infection has the potential to. But this recall is nonetheless one to take quite seriously, and Hostess is encouraging customers who have purchased any of the affected products to either throw them out or bring them back to the store for a full refund. Customers should direct questions to 1-800-686-2813. As always, it's important to be aware of all recalled and potentially tainted foods, and maybe just make exclusively homemade everything from here on out? (But, really, no one actually has time to do that.)