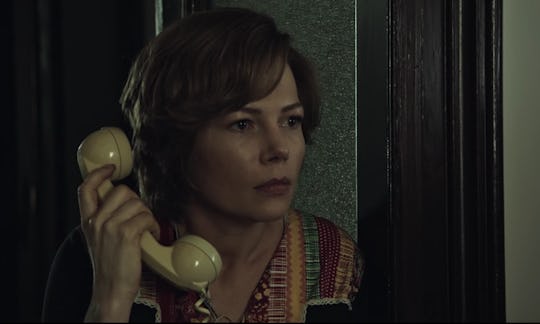 Sony Pictures Entertainment/YouTube
How To Watch 'All The Money In The World' & Better Appreciate The 2018 Awards Season
Sometimes, if you're too busy to keep up with showtimes and box office releases, awards season is the best way to figure out what films and TV shows you actually want to watch. This will likely be the case for people wondering how to watch All The Money In The World, a film based on the true story of when oil tycoon J. Paul Getty's grandson, 16-year-old John Paul Getty III, was kidnapped in Rome in 1973.
The film stars Christopher Plummer as the old billionaire, Michelle Williams as the young Getty's mother, who spends most of the movie convincing her family to pay the ransom to Italian gangsters, and was directed by Ridley Scott. It has all the makings of an awesome movie. The film is currently in theaters, so if you want to watch it, you'll have to find one of the selected theaters near you to catch it.
The project was released on Christmas Day, but the Foreign Press Association was able to screen a rough cut of the film in November so that it made the deadline for the Golden Globes, according to Variety. So when the 2018 nominations were announced, the public still hadn't seen it, which is why it might not sound familiar to you at all yet. Scott is nominated as Best Director, Christopher Plummer for Best Supporting Actor (not to be confused with Charlie Plummer, who plays the teenaged Getty), and Williams for Best Actress.
Although the movie is based on a true story and has so many talented actors behind it, what most people will be talking about is how the film is so good despite going through tons of last minute reshoots right before screening it for judges. Kevin Spacey was originally in Plummer's role, but when the allegations of sexual assault surfaced in October, the crew decided to reshoot all of his scenes. (Spacey was also fired from his Netflix show, House of Cards, in light of the allegations.)
So, although the movie is great on its own, it will definitely go down in movie trivia history for the way they seamlessly reshot all of Plummer's scenes, which meant the other actors in the scenes with them had to regroup, too. The film was originally set to be released on Dec. 22, so they even made their deadline, which is almost unheard of in Hollywood.
Scott told New York's Vulture that it took "nine days. Should have been 23 or 24. My crew is fantastic." So if the film wins any of its awards, you'll probably hear a reference or two to that hustle. Really, Scott should win a Best Director award just for that, if you ask me.
According to the Los Angeles Times, it was the studio's idea. Sony Entertainment said in a statement:
There are over 800 other actors, writers, artists, craftspeople and crew who worked tirelessly and ethically on this film, some for years, including one of cinema's master directors. It would be a gross injustice to punish all of them for the wrongdoings of one supporting actor in the film.
For his part, Plummer didn't watch any of the original scenes before getting to work. Scott said in the same Vulture interview:
I would never show Christopher what Kevin did. I want him to be his own man. He is his own man in this one, and a lot of that comes from the inherent nature of Christopher, who is essentially very charming, has that twinkle, has that smile, and when he's playing with those words, is a motherf*cker. He can give it a bit more depth.
So it was really a team effort to keep the whole film alive and push it into awards season. If anything, All The Money In The World will go down as a product of the #MeToo era, so make sure to put it on your "to watch" list.
Check out Romper's new video series, Romper's Doula Diaries:
Watch full episodes of Romper's Doula Diaries on Facebook Watch.