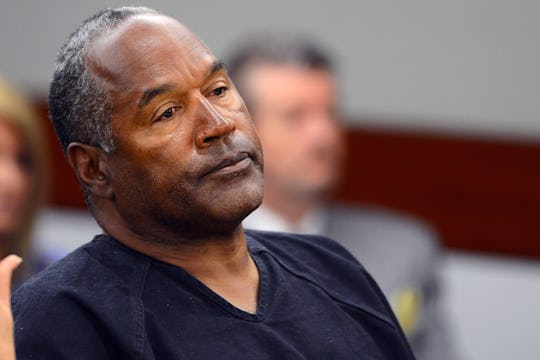 Ethan Miller/Getty Images News/Getty Images
How To Watch OJ Simpson's Parole Hearing
On Thursday, O.J. Simpson will appear before the Nevada Parole Board following nine years in prison for the stealing sports memorabilia at gunpoint in 2007. Simpson is expected to ask for early release, according to CNN. The hearing won't be open to the public, but the public will be able to watch the hearing. Here's how to watch O.J. Simpson's parole hearing — and it should be relatively easy. ESPN is one of several networks who will stream Simpson's parole hearing online.
CBSN, the 24-hour online streaming channel from CBS News, will also live stream Simpson's parole hearing. But if traditional news is more your style, you can also turn on just about any of the major network channels, as many have promised to air live updates, according to website Deadline. Obvs, CNN is there with a live blog of Simpson's parole hearing, too. Seriously, it's an embarrassment of media riches for anyone who wants to tune in to find out if the Juice will once again be loose. You can also just watch a live stream below right here.
The rise and fall of former NFL star O.J. Simpson has attracted much attention since that infamous white Ford Bronco chase 23 years ago, especially with dramatizations like The People v. O.J. Simpson: American Crime Story and even ESPN's docu-series, O.J.: Made In America.
CNN provided an outline of what viewers can expect once Simpson's parole hearing begins. Simpson will not be there live at the hearing; he will speak to board members via a video conference. He will have approximately 30 to 45 minutes to speak before the parole board members will leave the room to deliberate. It's not yet known if Simpson will be granted parole — that's obviously the whole point of Thursday's hearing — but it would be a huge deal either way depending on how the parole board will vote.
Simpson was originally convicted and sentenced to nine to 33 years for his 2007 crime; Thursday's parole hearing represents the earliest point at which he could plead for early release from his sentence. At the time, some legal experts considered Simpson's sentence was excessive. It's an interesting dichotomy of reactions, given the public outcry over Simpson's 1995 acquittal in the death of Nicole Brown Simpson.
But let's get one thing clear: Simpson was tried and found guilty for 10 counts related to a botched robbery in Nevada, so anything related to a crime for which he was found not guilty — no matter how anyone feels about it — shouldn't come into play at Thursday's parole hearing. Even one of his victims from the 2007 robbery, Bruce Fromong, is expected to speak on Simpson's behalf. Simpson's parole hearing begins at 1 p.m. Eastern Time on Thursday, but it is not known how soon after Simpson speaks when he — and the world — will find out if he will get to go free.