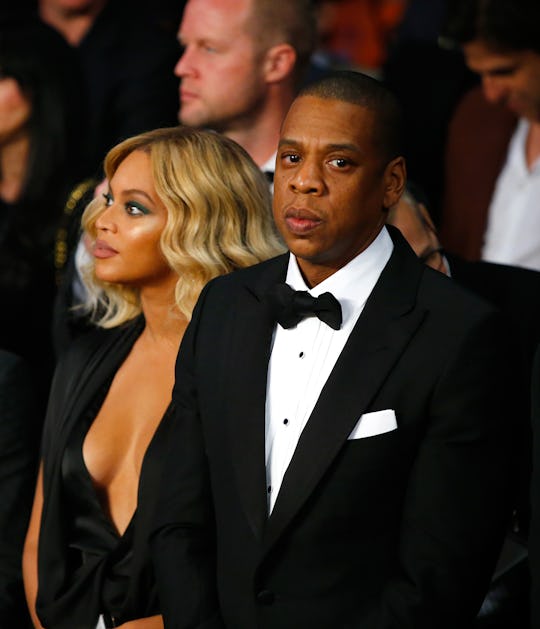 Al Bello/Getty Images Entertainment/Getty Images
How Will Jay Z Respond to Beyoncé's 'Lemonade'? The Rumor Is Churning
There is a tweet that perfectly encapsulates the speculated run-up to Beyoncé's Lemonade triumph. It goes like this: Below a gif of Bey ostensibly explaining whatever's written on a sheet of paper in her hand to husband Jay Z, some enterprising internet-dweller imagined in the caption that the two were talking about Lemonade before Bey surprise-dropped both the film and the visual album on HBO late last month. "So how does it start?" Jay asks in the picture. "Well, first I'm going to throw shade pretty directly at you," Bey responds. (And that she did, using the masterpiece to call him out for his unconfirmed infidelity with unsubtle lyrics like, "If you try this sh-- again/you gon' lose your wife" and "Today I regret the night I put that ring on.") Now, according to that same rumor mill, Jay Z will reportedly respond to Beyoncé's Lemonade. But how? And is there some sort of method to the madness?
By the end of Lemonade (the hourlong journey is tumultuous, honestly), Bey is crooning lyrics like "Give you some time to prove that I can trust you again/I'm gonna kiss up and rub up and feel up," and the screen fills with the happy couple on their wedding night. While fans spent the days following Lemonade's debut trying to uncover the identity of "Becky with the good hair," Beyoncé seemed to have once again taken control of the narrative of her life and shown the media that she could deal with and overcome her husband's alleged cheating in the most epic way possible.
This week, an unnamed source "close to the couple" told Us Weekly that Jay was working on some tracks of his own to unveil his side of the marital strife. As of yet, there is no indication of what he might have to say for himself. But maybe if we're lucky, and if the album rumors are true, we'll finally get some insight on what exactly happens to a person when they cross Queen Bey.
Rumors that the hip hop artist had been unfaithful rose to a crescendo following the infamous elevator incident of 2014, when TMZ obtained footage of Beyoncé's sister, Solange, attacking Jay in an elevator after the Met Gala afterparty, while Bey calmly watched. And then, Lemonade happened and pretty much confirmed everyone's biggest fear: The perfect power couple was no longer perfect.
We don't know how much Lemonade is autobiographical, of course, but given how convincing the album is, it would make sense that anyone and everyone — including Jay — would want to capitalize on that runaway success. The Knowles-Carter union is at once esoteric and endlessly fascinating to the public, and it makes sense that the couple might want to see things through the rough patch anyway, if only for monetary gain. "Beyoncé and Jay Z are nothing if not savvy businesspeople, so why not monetize both sides of a messy personal moment instead of just one?" Cosmopolitan's Megan Friedman wrote.
It's possible that the rumors that Jay will respond are simply that – rumors. After all, the album initially streamed exclusively on TIDAL, which Jay Z co-owns, and Beyoncé dedicated "Halo" to her "beautiful husband" during the opening night of her Formation World Tour in Miami back on April 27. Despite the speculation of an impending divorce that Lemonade (understandably) launched, the couple seems to be going strong. There's also this adorable video below of Jay Z dancing with the couple's 4-year-old daughter, Blue Ivy, during a post-Lemonade Beyoncé performance — which isn't exactly proof of marital bliss, but at least it's something.
It seems to me, whatever Jay comes up with, he'd better check himself before he wrecks himself. The Beyhive does NOT like anyone messing with its Queen. But because it's associated with Beyoncé (and because I really loved Watch the Throne, TBH), I'll probably buy this mysterious album or series of songs anyway, if it actually happens. Bey and Jay know that we cannot resist them, and most of us, whether unwillingly or not, will likely play right into it.