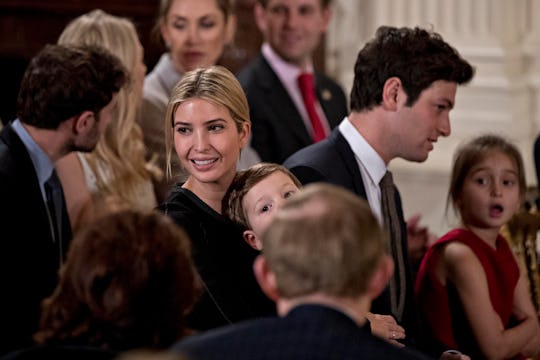 Pool/Getty Images News/Getty Images
I Won't Like Cute Photos Of Ivanka Trump's Kids
Back in the early 2000s, when I worked as a sales associate at Sam Goody, I would play peek-a-boo with every baby who strolled in during my shift. I didn't do so out of obligation; although childless then, I understood the societal pressure to dote on every kid you saw for their parent's sake. Rather, I just adored entertaining little ones as I helped their parents buy Now That's What I Call Music! Vol. 10. Now that I'm a mother, I'm more acutely aware of that obligation to tell someone their child's cute, even if that person's a public figure. So call this an act of resistance, but I won't like cute photos of Ivanka Trump's kids, even despite the pressure, and even if the photos and videos are adorable. She is now tied to her father's administration.
Personally, I'm not the type to gush if it's not genuine — unlike, say, family members of mine who have a proclivity for behind-the-back baby shaming. And in truth, Ivanka's Instagram account is chockfull of adorable photos and videos of her young children. But as a parent, a partner, a friend, a loved one, and a person who will be directly affected by the policies of her father, President Donald Trump, I can't bring myself to like her posts — symbolically or otherwise.
While she's posting videos of her son, Theodore, crawling for the first time on the White House floor, her father's administration sabotaged efforts to encourage enrollment through the Affordable Care Act marketplace before Tuesday's deadline. While Ivanka posted a family photo from Inauguration Day, her father reinstated a stricter version of the "Global Gag Rule," the Reagan-era measure that bans foreign groups from receiving U.S. funds if they provide or talk about abortion. That rule, by the way, has led to an increase of both abortion rates and maternal deaths in the past.
Then there's Trump's position on healthcare. Republicans in Congress have already set the stage for a complete dismantling of former President Barack Obama's historic healthcare reform. That means insurance companies can go back to denying policies people with pre-existing conditions. That means parents will lose access to preventive services like well-baby visits, which have proven to save lives. That means breastfeeding supplies and supports vanish out the window. That means millions of people will lose their jobs — their means of survival. That means, as the Washington Post reported, more than 175,000 people would die in one presidential term.
Then there's Ivanka herself, who's the brainchild behind her father's child care and family leave policies that, in the end, will prove ineffective. As I've written, Trump's child care tax credit proposal wouldn't benefit the people who actually need it the most. Although it saves a family a few dollars come tax season, it does nothing to help parents struggling to pay for child care in the first place. (The same goes for expanding the Earned Income Tax Credit — Trump's misguided solution for low-income parents.) And their dependent care savings account solution, which would allow working parents to set aside pre-tax dollars for child care expenses, would only be available through employers, excluding a whole host of parents who could benefit from those types of accounts. Oh, and that family leave policy? It would only benefit the mother. Dads or same-sex partners are completely left out.
Although Ivanka presents herself as a champion of women — a champion of parents — she is far from that label. After all, Ivanka's clothing line uses a company called G-III for all of its manufacturing, and G-III does not offer paid leave to its employees. The clothing line itself offers eight weeks of paid leave, according to Vanity Fair.
So while Ivanka's three kids might be cute, the first daughter isn't going to "cute kid" her way through or past what's she's helped do to the country.