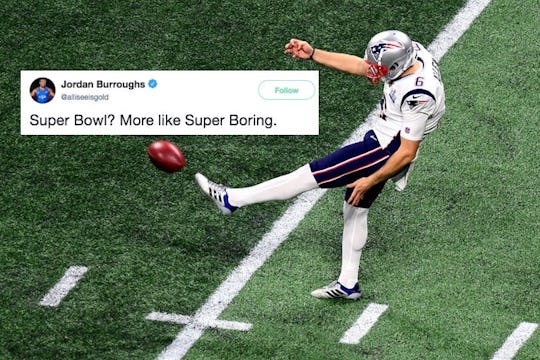 Scott Cunningham/Getty Images Sport/Getty Images
These Tweets Will Perk You Up If You Thought The Super Bowl Was, Um, A Bit Boring
Listen, football isn't for everyone. The games are long, there are a ton of rules to follow, and plays seem to move very slowly. But the Super Bowl is meant to be a sort of crowd pleaser, right? But 2019's big game, according to many people on Twitter, was lacking on the drama and excitement we all tune in for every year. So if you thought the Super Bowl was boring this year, then you'll definitely enjoy these hilarious tweets that sum up exactly how many people were feeling as they maxed on their nachos and buffalo chicken dip.
The Los Angeles Rams and the New England Patriots faced off for the the Vince Lombardi Trophy at Super Bowl LIII in Atlanta. Sure, for sports junkies, this year's Super Bowl may have been the highlight of the season. But for many people who tuned in on Sunday night, well, 2019's big game dragged on a tad, to put it nicely. One person on Twitter even called it "underwhelming." Yikes.
The sluggish vibe may be due to the fact that there was very little action until well into the fourth quarter of the game, according to the Los Angeles Times, when the Patriots scored a late touchdown and caught up with the Rams. Many folks on Twitter also weren't totally impressed with this year's halftime show, which was headlined by Maroon 5 and featured rapper Travis Scott and Outkast's Big Boi.
So if you're feeling like Super Bowl LIII could've used a little more pizazz on this wintry Sunday night, then please have a look at these hilarious (and snarky) tweets.
Some Were Nodding Off
Some Had Tips To Liven It Up
Others Had Suggestions For What To Do Instead
Some Got Artistic
Snickers Even Got In On The Banter
Some People's TVs Even Interfered
Some Wished Tony Romo Had Warned Football Fans
And The Anchorage Police Department Even Chimed In With This Hilarious Hot Take
All these tweets, of course, are just fun and games. The NFL players who hit the field tonight have worked hard to get there. Still, though, for many, the game of the year was making a lot people's eyelids heavy.
This year's commercials, however, were the opposite of boring. There was Pepsi's hilarious ad with Cardi B, Steve Carrell, and Lil Jon (yes, the dream team.) There was Sarah Michelle Gellar's Scream-inspired commercial for Olay. And, of course, John Legend's adorable ad for Pampers, featuring his kids with Chrissy Teigen, little Miles and 2-year-old Luna.
After a lot of yawns and a ton of hilarious tweets, the New England Patriots won yet another Super Bowl — Tom Brady's sixth of his career, in fact, according to CBS News — on Sunday night. For Patriots fans, the four-hour long game was well worth the wait. And for those rooting for the Rams or no team at all, well, 2019's Super Bowl probably won't go down as a most memorable one.