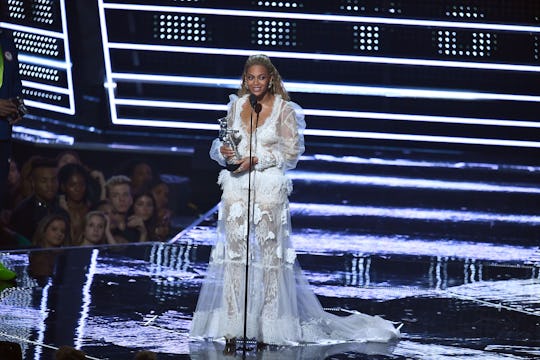 JEWEL SAMAD/AFP/Getty Images
Is Beyonce At The 2016 Emmys? Viewers Are Wondering Where Their Queen Is
In 2016 (and for plenty of years prior) it's pretty normal to spend the majority of your time wondering where Beyoncé is, especially when there's an award show to watch. She's constantly pulling off incredible, instantly iconic looks whenever she appears at a red carpet or graces a stage – occasionally accompanied by her equally-fashionable mini-me daughter, Blue Ivy. Needless to say, viewers were waiting on pins and needles to see what amazing look Beyoncé would debut at the 2016 Emmys, where she's nominated for four awards for her visual album Lemonade. But is Beyoncé at the 2016 Emmys? She was reportedly saved a seat in the second row, but we've yet to see Queen Bey grace the 2016 Emmys seat.
Viewers weren't alone in wondering about Beyoncé's attendance during the opening red carpet – stars were equally (and quite verbally) psyched about the possibility of meeting their musical icon. During her on-carpet interview, Ellie Kemper echoed probably every single attendee's thoughts when she wondered whether she was seated next to Beyoncé. Similarly, Laverne Cox took a moment (between showing off her incredibly glamorous red carpet look and speaking out about the importance of voting in the upcoming election) to confess to Giuliana Rancic that she was only thinking about Beyoncé. Same, girl. Same. Cox's fangirling moment wasn't lost on viewers, who took to twitter to voice their solidarity.
In fact, Cox is set to present one of the awards for which Queen Bey is nominated, Outstanding Directing for a Variety Special. So there is a chance we might actually get to see the two fashionistas on stage together at once in which case we all might just lose our collective minds (if Beyoncé wins the award and actually shows up in person to accept it, of course).
It's worth noting, however, that just because Beyoncé is nominated for an award doesn't necessarily mean she has to or will show up. Plenty of nominees and winners don't make it to the actual show every year. Host Jimmy Kimmel even made a joke about that phenomena. His joke, coupled with the numerous times viewers have all seen someone accept an award on someone else's behalf, left 2016 Emmys viewers, once again, voicing their concern on twitter:
The Emmys Academy reserves seats for nominees, and the pop superstar actually got a coveted second-row seat, very near the stage – which seems like a super huge hint that she may actually win the award. I could be reaching, but Bey totally deserves the award for her stunning visual album, as it is nothing short of an artistic feat. It seems odd that Beyoncé might skip out on the Emmys, especially because if she were to win in one of her nominated categories, she would be one step closer to the coveted EGOT.
Alternatively, many fans are hoping that Beyoncé will turn out an unscheduled performance, which could explain why she's not present during the actual ceremony – she could, theoretically, be prepping for a surprise show.
This, to be honest, would be a more than welcome way to break up the occasional awards show monotony. Don't get me wrong; I love seeing gorgeous celebrities accept prestigious accolades as much as the next gal – and I especially love the speeches geared toward social justice – but a musical interlude from one of the greatest performers of our time, you know, never hurts.