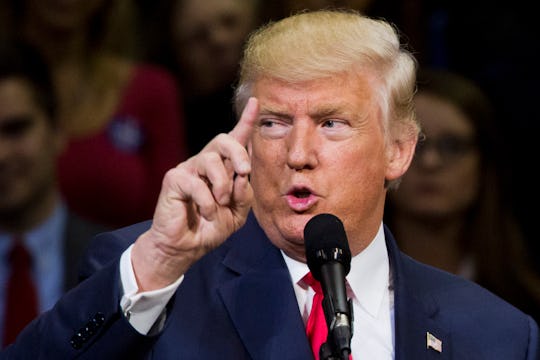 DOMINICK REUTER/AFP/Getty Images
Is Donald Trump Ahead In The Polls? His Recent Controversies Have Done Some Damage
If you listen to what Republican presidential nominee Donald Trump has to say, this election is in the bag, it's over, it's time to start moving into the White House. And that's more or less true, but not of the real estate mogul himself. In fact, with less than a month to go until Election Day, the trajectory of the voting electorate does seem set — in favor of Trump's opponent. Contrary to what the man who's now openly feuding even with his own party seems to believe, Donald Trump is not ahead in the polls; Democrat Hillary Clinton is actually leading him in almost every single major national poll there is.
According to a RealClearPolitics average of seven national polls conducted as of Monday, Clinton, with 44.6 of the likely votes in a four-way race against Trump and the two third-party candidates on the ballot, is leading Trump by 5.5 percent. And on Wednesday, the result of the Los Angles Times/University of Southern California poll, showed Clinton edging him out by 0.4 percent of the vote, even though it has traditionally favored the Republican because it takes into consideration respondents' voting histories.
And the continued slide of the bombastic, oftentimes belligerent candidate is a symptom of the epically awful past several days he's weathered: the public unveiling of an 11-year-old video recording in which he brags about sexually assaulting women, the massive backlash from elites within the GOP, and a disastrous second debate that he definitely lost.
Finally, House Speaker Paul Ryan on Monday publicized his decision to focus on down-ballot races instead of actively supporting Trump — a tacit recognition that the Republican quest to win back the Oval Office is officially a lost cause.
Trump himself, though, is continuing with his typical M.O. of remaining spitefully ignorant of reality. In addition to maintaining the illusion that he has a solid chance of winning (he has likened his lag in the polls to Britain's recent Brexit decision, a "yes" vote that was considered an upset despite close polls, Politico reported), the unhappy underdog persists in perpetuating the idea that the election may be fixed in Clinton's favor.
"Even the polls are crooked," he said at a Monday night rally in Pennsylvania, referring to his skepticism that he could be losing in the state, according to USA Today. "Look, we're in a rigged system."
It's not the first time Trump has espoused such a reckless sentiment. In August — following another tumultuous week during which he publicly sparred with the family of a Muslim soldier who died in Iraq and insinuated that women who experience sexual harassment at their jobs should find somewhere else to work — Trump similarly expressed his belief that, if he lost to Clinton, it would be because the election was rigged against him.
And it's exactly this kind of rhetoric that can incite some Americans not to accept the outcome of the election and threaten the peaceful transitions of power that have followed elections in this country since its inception.
Trump is also unwilling to accept the fact that he's incredibly unpopular with women. In an interview Tuesday, Bill O'Reilly of Fox News mentioned that Trump is "behind with women." "I'm not sure I believe it," Trump responded, according to CNN. "I'm not sure I believe it."
But a telling graphic released that day, FiveThirtyEight predicted that if only women voted in November, Trump would secure just 80 of a possible 538 possible electoral votes.
But Trump is notorious for drawing a false equivalency between turnout and enthusiasm at his rallies and the potential of his presidential ending successfully. At a campaign rally in Florida Wednesday, he again denounced polls that consistently report that his numbers with women are abysmal. "I don't get these polls," he said. "Every place I go, I see hundreds of women for Trump."
Whether Trump actually believes what he says or whether he's just simply dedicated to the showmanship of refusing to accept that his recent (and not-so-recent) controversies have seriously dented his esteem among Americans may never be known. But it's certainly not doing him any favors.