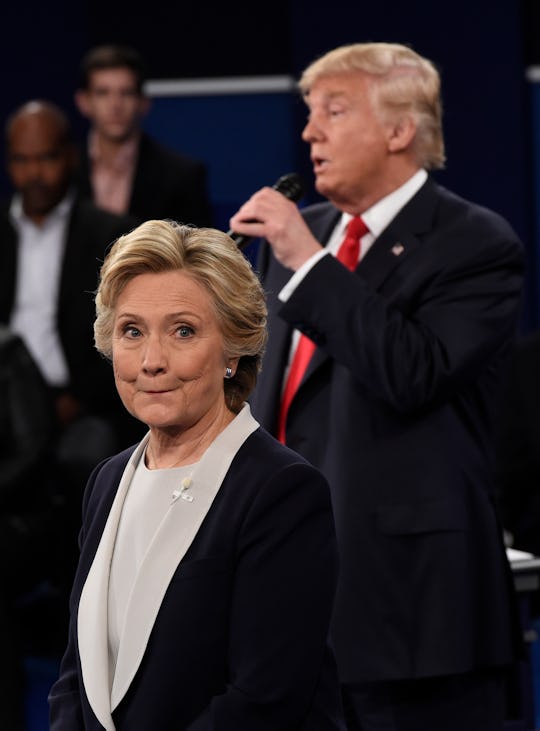 SAUL LOEB/AFP/Getty Images
Who Won The Second Presidential Debate? Hillary Clinton Clinched The Second Round
Ah, there's nothing like a fast and furious debate to ignite a competitive spirit among voters, and the second presidential debate was no exception. When the candidates walked onto the stage on Sunday evening, there was heavy anticipation in the air. Democratic presidential nominee Hillary Clinton was polling nearly five points ahead of Republican candidate Donald Trump, who received criticism over the weekend for remarks he made about women in 2005. There was a lot on the line leading up to Trump and Clinton's showdown — but who actually won the second presidential debate?
The debate, which took place in St. Louis, Missouri, was particularly interesting since it took on a town hall format, in which undecided voters got to ask the candidates questions through moderators. (And yes, I'm just as surprised as you are that there are undecided voters in this very contentious election year.) Considering that the questions came from those teetering on the brink between Trump and Clinton, the questions definitely challenged both candidates.
Who handled it all better? Considering that the debate only just wrapped up and polls have yet to roll in, the public hasn't made up its mind just yet — and moderators Anderson Cooper (from CNN) and Martha Raddatz (from ABC) weren't easy on either candidate. Yet, judging by the way the debate went down, it seems like Clinton won the second presidential debate.
In all fairness, Clinton did have a clear advantage leading up to the debate. Not only was she polling ahead of Trump, but she wasn't facing the same backlash Trump received over sexist comments he made in 2005. It made Clinton extra confident and secure of her lead in the race, while Trump came off as defensive. Clinton may not have given viewers the same proud shimmy she did in the first debate, but her confidence was visible.
During the debate, Trump brought up the "extreme vetting" of Muslims and drew fire for standing directly behind Clinton, while Clinton reiterated the inclusion of all Americans and highlighted education, climate change, and fair taxation. Trump also disagreed publicly with his vice president, and Clinton apologized for calling Trump supporters "deplorable."
These debates don't offer an official "you're the winner, you're the loser" announcement, so the public is free to make up their minds as they wish. However, judging by what the world saw go down on the debate stage tonight, it seemed clear that Clinton walked away victorious.