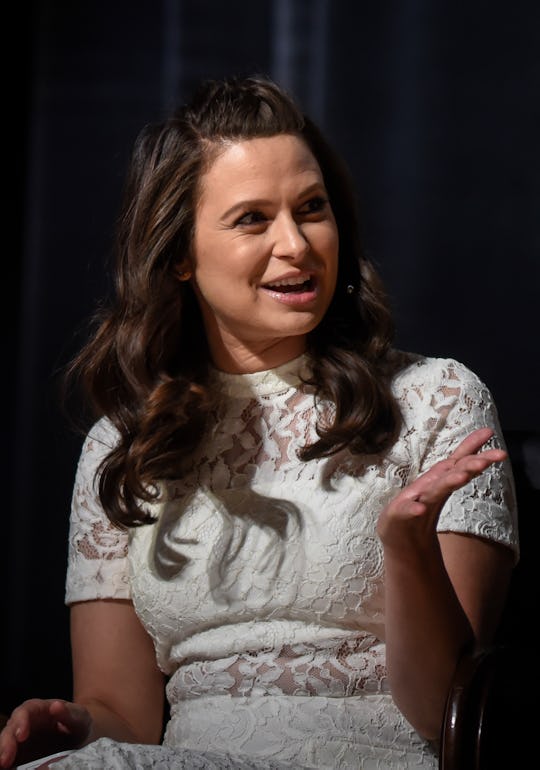 Kris Connor/Getty Images Entertainment/Getty Images
Katie Lowes Really Might Be Leaving 'Scandal' For Good
In some ways, the final season of Scandal should mean that everyone's stories are starting to officially wrap up and that, come the end of the season, things will have concluded in some way. On the other hand, since this is the last season, it's totally possible that Shonda Rhimes decided to hold nothing back and spare no one, including our girl Quinn. So, is Katie Lowes leaving Scandal?
Quinn's fate is still up in the air as far as I'm concerned, since we didn't actually see her get shot. Viewers only heard Rowan shoot someone in another room while Olivia listened on in horror. But who's to say that he didn't just fire at shot into the floor instead? That might just be the optimist in me, hoping for the best where Charlie's "Robin" is concerned, but I refuse to believe they'd kill off Quinn like that in the last season, even if those involved with Scandal have said some pretty cryptic things that might have fans thinking otherwise.
After the winter finale aired, in which Quinn's fate was still left uncertain, Rhimes tweeted about it, telling fans, "It's the final season you guys, you know we had to go all out. We are happy that @KatieQLowes can have this time with her baby." But with the gunshot being off-camera, I'm still inclined to believe that Lowes will be back, come January.
Would the writers really eliminate Quinn off-camera and allow a wild goose chase to culminate with the dead body of a very pregnant woman being shown at the end of it all? While I refuse to believe that they'd break not only Charlie's heart but fans' hearts by getting rid of Quinn before the final season was even over, some of Scandal's stars have all but said otherwise, so it's totally OK to start freaking out regardless.
Darby Stanchfield (Abby) spoke to Us Weekly at the Television Academy's 24th Hall of Fame Induction Ceremony and, judging by her comments, things could indeed be bad for Quinn once Scandal returns. "It's not looking good for Quinn, at all. That's all I have to say," Stanchfield revealed. "I don't want to talk about it anymore, I might cry!"
Lowes herself posted a series of tweets following the winter finale, thanking her fans, co-stars, and the geniuses behind Scandal and for all intents and purposes, she definitely made it sound like this was Quinn's exit from the show. But there's still the possibility that she's just messing with us and Papa Pope was just bluffing Olivia all along.
For fans who don't know, Lowes' real life pregnancy coincided with Quinn's on the show and she gave birth to her first child with husband Adam Shapiro in October. So the whole kidnapping storyline for Quinn made sense, in that it's allowed Lowes to spend less time on camera and more time doting over her new baby and enjoying motherhood.
But since the show will be back and this is the last season as a whole, I doubt it's the last we see of her. As she tweeted, she's grateful to have time with her baby, but after everything Quinn has been through on Scandal, there's no way they would kill her off in such an unceremonious way.
If Lowes is actually leaving Scandal, then that would mean Rowan really did kill Quinn and that Olivia's actions and coldness as Command have finally caught up to her. In that sense, Rowan may have finally gotten through to her and broken that hard exterior she's put up this season. But will it really happen by way of sacrificing Quinn, who has been an OG ride or die gladiator since Season 1? Right now it's impossible to rule anything out.
Despite Stanchfield's cryptic response about Quinn's fate and Rhimes' tweet about going all out for the final season, I'm inclined to believe that there's still a lot viewers don't know about Rowan's latest action. But until we know for sure, we have two months to obsess over it all.
Check out Romper's new video series, Romper's Doula Diaries:
Watch full episodes of Romper's Doula Diaries on Facebook Watch.