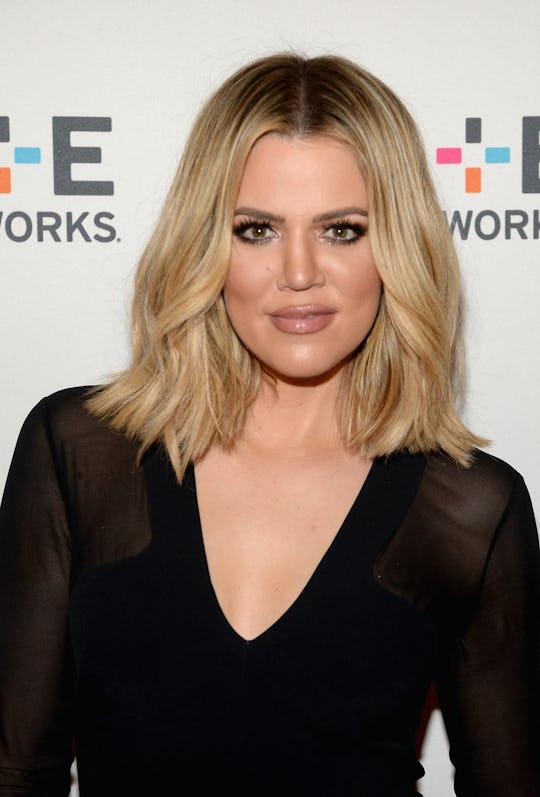 Chris Weeks/Getty Images Entertainment/Getty Images
It Certainly Looks Like Khloé & Baby True Have Left Cleveland, Thanks To These New Snapchats
It's been a wild few months for Khloé Kardashian, that's for sure. Since giving birth to her first child this past April, the new mom has been settled in Cleveland, Ohio, where her boyfriend, Tristan Thompson (who is also the father of her daughter), plays for the Cavaliers. But considering all of the alleged drama surrounding the state of their relationship lately, there's also been a lot of speculation about whether she'd stay put in the Midwest or if she'd head back to her home in the West Coast. Well, thanks to some new Snapchats shared on Sunday afternoon, it definitely looks like Khloe Kardashian back in Los Angeles with her 2-month-old daughter, True Thompson, though it's not clear if Thompson is there with them.
Kardashian posted a series of photos and videos on her Snapchat Story on Sunday afternoon, and the big giveaway that she's back in Los Angeles (or Calabasas if we're being specific) came from a photo of pink and white balloons from her sister, Kylie Jenner, who also recently welcomed her first child, a baby girl named Stormi. The balloons read, "Welcome home, Khloe and True," and they were signed, "Kylie and Stormi. We love you." In a different video shared on Snapchat, the 33-year-old mom shared that she was so excited about the "welcome home cookies" someone had sent her, which were adorably frosted with an image of baby True's face.
From the looks of everything, Kardashian herself basically confirmed the news that she was finally back home in California after spending more than two whole months in Cleveland since she gave birth to baby True. I mean, look at this sweet homecoming!
In case you haven't been keeping up, just before Kardashian gave birth on April 12, the Daily Mail and TMZ each published separate footage that purported to show Thompson allegedly with other women. Neither Kardashian nor Thompson have publicly commented on the footage or cheating allegations and both of their reps have not yet responded to Romper's requests for comment.
Of course, whatever actually happened is unknown and whatever is going on between Thompson and Kardashian right now is also unclear (and really only their business), but given all the stress the media attention may have caused her so soon before giving birth and afterwards, it's nice to see that Kardashian is back home with her friends and family.
News of Kardashian returning home wasn't entirely surprising though, since just weeks ago the reality star's mom, Kris Jenner, told E! News on June 1 that she was expecting her daughter and granddaughter home any day now. Speaking with E! News, Jenner explained that she and her daughter would talk "every day" on FaceTime while she was in Cleveland and she also revealed that Kardashian would "be home soon."
I think it's safe to say that Kris Jenner is happy to have her daughter and newest granddaughter back in Calabasas with the rest of the Kardashian Krew, and given the heartfelt homecoming she was given, it looks like she's thrilled to be back as well. Kardashian was also virtually welcomed home with open arms by her legion of fans, who were just happy to know that she was back home in California with her friends and family.
It certainly seems like Kardashian is happy to be back home in California. And whether Thompson will ever join her and True there, or if he's there with them now, she definitely deserves some time to relax somewhere that's familiar and comfortable. Kardashian has to be learning so much about motherhood in these first few months, and it's nice to know that she'll now have her sisters and closest friends physically by her side. Because raising a baby really does take a village.