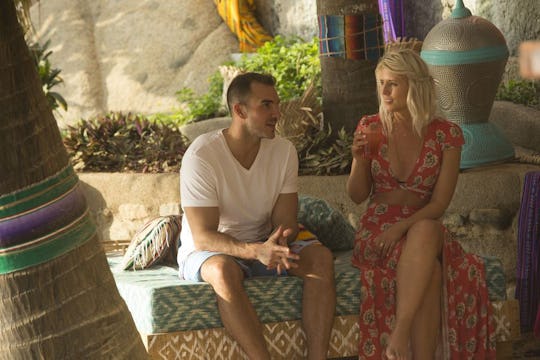 Paul Hebert/ABC
Matt's Relationship Status Could Get Complicated On 'Paradise'
There were a few legit couples that popped up at the beginning of Bachelor in Paradise Season 4, but as time went on, not all of them were destined to survive the tornado of additional cast members dropping it. But since Matt and Jasmine were one of those seemingly solids pairs from the start, is Matt single after Bachelor in Paradise? He made a couple of connections this season, but as far as his Instagram and Twitter accounts are concerned, the most important relationships he has in Bachelor Nation are with the other men.
Not that making it out of these shows with friendships isn't the best kind of consolation prize, but it looks like Matt probably didn't find love in Paradise this season. As it stands, he likely could have developed something real with Jasmine, had Christen not decided to ask him on a date (which we've seen will happen in the promos). But on Bachelor in Paradise, you can never be sure if taking a chance with a different cast member will be worth ruining what you already have with someone else.
In Matt's case, Jasmine doesn't seem like she's into playing games and since the clip for Monday's episode shows him accepting a date from Christen, it would appear that whatever Matt and Jasmine had ends quickly and painfully. But like I said, Matt's connections were definitely with his fellow male contestants during both Bachelor in Paradise and Season 13 of The Bachelorette.
Usually, Bachelor in Paradise films for around three weeks and airs for about six weeks' worth of episodes. For many, that's not a lot of time to develop lasting relationships. With the temporary shutdown at the beginning of the season, their actual filming for Season 4 of Bachelor in Paradise was even less than that, so if Matt didn't come out of the show in love or with wedding bells chiming for him, that's totally understandable.
Unlike some of the reality stars born out of The Bachelor or The Bachelorette, Matt has always seemed like a genuine and realistic guy and it's entirely possible that he agreed to go on Bachelor in Paradise for the sheer reason of wanting to have fun and remain relevant in the Bachelor Nation world. On Rachel's season of The Bachelorette, Matt made it to the final six, even being someone that some fans thought of as not so memorable, but even so, he came back to TV on Bachelor in Paradise.
Even though Matt was part of one of the first couplings this season, it looks like he's happier to have made friends with the men and to be able to support them both on and off the shows.
Not everyone on Bachelor in Paradise has to fall in love and have an endgame like Carly Waddell and Evan Bass or Jade Roper and Tanner Tolbert, but that's kind of the point and when that happens, it's always an added bonus for fans. In Matt's case, he seems like he had fun in Paradise, but probably didn't end up falling for the love of his life.