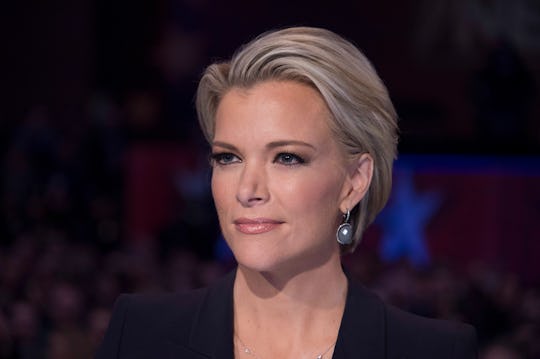 JIM WATSON/AFP/Getty Images
Is Megyn Kelly Leaving Fox News? Other Outlets Are Reportedly Courting The Fox Anchor
Even for those who don't tune in to Fox News, network anchor Megyn Kelly's has become a household name over the tumultuous course of the 2016 election cycle. Way back in August 2015, then-Republican presidential candidate Donald Trump slammed her for having "blood coming out of her wherever" when she asked him about the misogynistic way he often talks about women during a primary debate, and the relationship between the two has been under public scrutiny ever since. As it now stands, the celebrity journalist faces at least four more years of covering the man, who is now president-elect — but not necessarily on the conservative network where it all began. As the end of her contract approaches, there is reason to speculate that Megyn Kelly is leaving Fox News — and reports that other major networks are courting her, as well.
Right now, Kelly — host of The Kelly File, which has broken Fox viewership records — is "entertaining offers" from other networks, most prominently CNN, ahead of the July 2017 close of her contract, Variety reported. And from Kelly's high-profile accusations that former Fox News head Roger Ailes sexually harassed her (claims he's denied) to her public tiff with colleague Sean Hannity, her recent run at Fox hasn't been the smoothest. But in a recent interview with PORTER Magazine, the TV personality didn't give her intentions away: "I am trying to figure that out right now," she told the publication. "I don't have the answer for you."
Citing an anonymous "top insider," The Drudge Report claimed Thursday that CNN president Jeff Zucker wants Kelly to anchor the 8 p.m. or 9 p.m. time slot on the network, but can't match the $20 million salary she reportedly currently earns at Fox. "He is moving the Himalayan mountains to get her," the "insider" said. Us Weekly reported that a "source" has told the magazine that ABC News was interested in adding Kelly to its lineup as well.
Fox, CNN, and representatives for Kelly did not respond to questions about the possibility of a switch.
But there is evidence that Zucker would like Kelly on his station. "She's an immense talent," he said earlier this year, according to Variety. "She'd be a tremendous asset to any organization she's with."
And although Kelly currently works for a conservative outlet, Kelly is willing to spar with Republicans on her show — leading to exchanges that are undoubtedly great for ratings and showcase her versatility.
When she pushed former House Speaker Newt Gingrich on the allegations of sexual harassment and sexual assault levied against then-candidate Trump in October, for example, he accused her of being "fascinated with sex."
"You know what, Mr. Speaker? I'm not fascinated by sex, but I am fascinated by protection of women, and understanding what we're getting in the Oval Office," she responded.
Kelly has displayed a similar fearlessness with the publication of her book, Settle for More, in which she reveals that Trump allegedly offered her hotels stays and other gifts in exchange for more favorable coverage, and that he allegedly threatened her when she interviewed a critic of his who had written about a rape accusation against Trump (which he and his lawyers have vehemently denied) on her show. Trump's team did not immediately respond to Romper's original request for comment on the alleged incident.
No matter where Kelly ends up in the months to come, it's all but certain she'll be a staple on primetime.