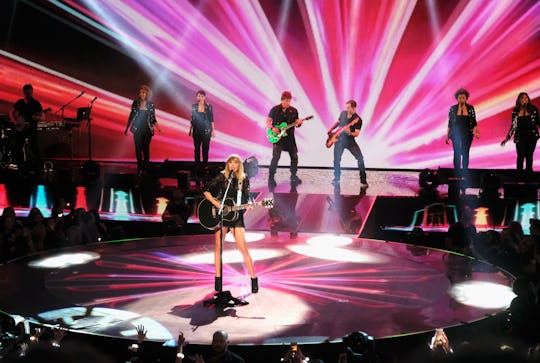 Frazer Harrison/Getty Images Entertainment/Getty Images
Is Taylor Swift At The VMAs? People Are *Waiting*
Katy Perry has officially landed on the MTV Video Music Awards stage — but enough about her, what about Tay-Tay? Is Taylor Swift at the VMAs? A source close to the singer told People she just might grace the awards show with an appearance. So, here's the scoop: Swift is nominated for one award at Sunday's VMAs, for Best Collaboration with Zayn for "I Don't Wanna Live Forever" from the Fifty Shades Darker soundtrack. This we know. But The Big Unknown With a Capital Everything has been whether Swift will show up Sunday night. She was AWOL on the red carpet, but there may be hope yet for Swift fans.
The source told People that Swift is pretty pumped about her newest album, Reputation, which drops in November. Swift just dropped her first single from the album, "Look What You Made Me Do," on Thursday and world premiered its insane video to slay all music videos of recent memory at Sunday night's show. "This has been her life for the past months," the source told People. "She is very excited to share it with her fans. She is also ready to come out of hiding." Oh my goodness, I hope so.
It's true that Swift has been "hiding," to some degree. Every one of Taylor Swift's social media posts disappeared nine days ago, only to be replaced with cryptic GIFs of snakes and then finally, the big news: Her first new album in three years. It's true that Swift has a bit of a complicated history with the VMAs, especially after that whole Kanye West incident in 2009. And given that notorious archenemy numero uno Katy Perry is hosting the shindig, it's entirely understandable if Swift were to stay home and catch the whole thing from the comforts of her couch.
But those are also the very same reasons that would make Swift's appearance at the VMAs that much more epic. And after the insanity of her "Look What You Made Me Do" video, I'm pretty sure people are going to try and storm the stage if she manages to sneak in an appearance, no matter how brief. What's pretty incredible is that it almost feels as if Swift is already there, what with the weighty mic drop that was her video: People were basically blown away by it, and it seemed to be a huge highlight of the VMAs early in the evening.
There's still a lot more show left on Sunday night, so Swift fans will just have to wait and see if she's going to slay in person as much as she did with her world premiere.