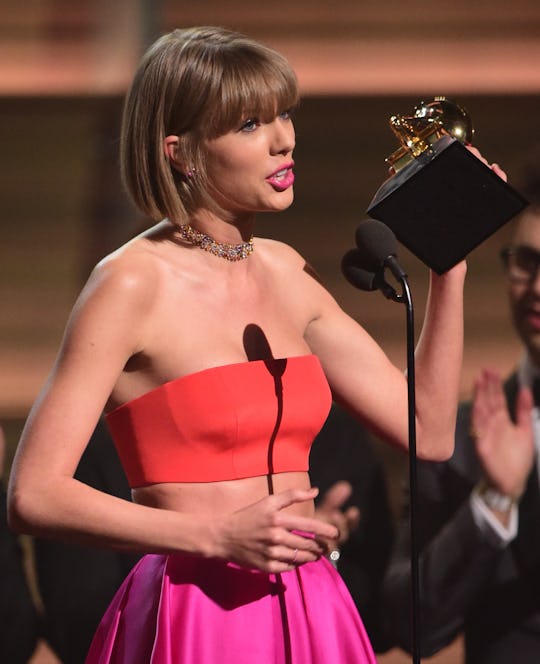 ROBYN BECK/Getty
Is Taylor Swift Really The First Woman To Win Album Of The Year Twice? Yes & No
The 58th Grammy Awards were a huge night for artists across all genres, and an especially big night for one artist in particular. Taylor Swift took home the gramophone for Album of the Year, i.e. the most coveted award of the year. It's basically the Grammy equivalent of Best Motion Picture. During her acceptance speech, Swift proudly claimed that she was the first woman to win the award two times. But many are questioning the validity of her statement. Is Taylor Swift really the first women to win Album of the Year twice? Well yes. . . and no.
The 26-year-old singer first won the award in 2010 for her sophomoric album Fearless. When she took home the same award on Monday for her album 1989, she did in fact become the first woman to win Album of the Year twice for her own albums. That being said, she is not the first women to win album of the year on two separate occasions. That title belongs to Miss Lauryn Hill. The singer and rapper took home the title in 1999 for The Miseducation of Lauryn Hill. She was then a collaborator on 2000's winning album, Supernatural from Santana. And even after Hill took home the two-tome honor, two other singers followed in her footsteps before Swift. Norah Jones took home the title in 2003 for her debut album Come Away With Me and was then featured on 2008's winning album, River: The Joni Letters from Herbie Hancock. Similarly, Allison Krauss was featured on 2002's winner O Brother, Where Art Thou? and then won with Robert Krant in 2009 for Raising Sand.
As fun as it is to nitpick Swift's Grammy acceptance speech, at the end of the day she is right about this being a ground-breaking victory. And not just for her — though it will be an impressive note on her Wikipedia page — this was a win for women all around the world, in various industries. Swift's win proved that not only can women play with the men and just as well as the men, but they can be better than the men. Especially if the man in question is a rapper who tries to take credit for you and your success. (*cough, Kanye, cough*)
But what's most important about Swift's note-worthy victory Monday night was that she owned it. As women, we're often discouraged from celebrating our success. We're taught to accept our victories with a smile and nod, and then move along. But Swift did the opposite. She let everyone in the room know how huge this win was for her, the music industry, and women in general.
Of course, things still aren't perfect. As one Twitter user pointed out, there was a lack of female producers on Swift's winning team. (And by lack of, I mean absolutely none.) There are also claims that the Grammys lacked diversity, particularly in the Best New Artist category. And let's not forget Stevie Wonder's comments about people with disabilities.
The world isn't perfect, and award shows are part of that world. But when the world makes a step in the right direction and someone points it out, as Swift did during the Grammys, then we can say we're on the right track.
A previous version of this post said Norah Jones was the first woman to be a part of two Album of the Year Wins. We regret this error.