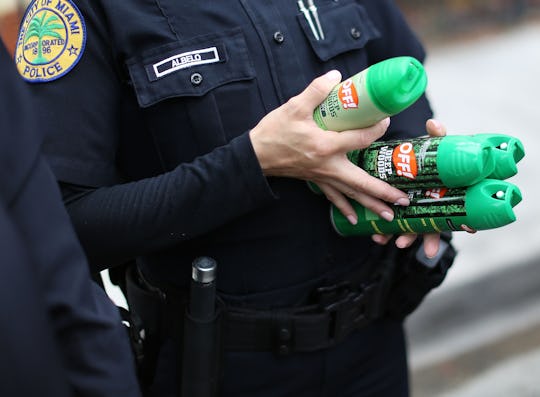 Joe Raedle/Getty Images News/Getty Images
Is Zika Virus In New Jersey? The Cases Are All Travel-Related So Far
With Labor Day come and gone, many Americans have sadly accepted the unofficial end of summer. That means many East Coasters officially said goodbye to their favorite driveable beach vacation destinations, leaving mostly locals in regions like the Jersey Shore and Ocean City, New Jersey. It could be considered either a relief or the end of fun times for those living in the Garden State, but they certainly have had one major travel-related headache: Zika virus is in New Jersey, where reported cases of the sickness are among the most prevalent of any state in the nation.
The good news about the Zika count in New Jersey is that each reported instance of the mosquito-borne illness is travel-related, meaning that the people who contracted it did so while they were in an infected country. When adults come down with the Zika virus, it's generally no big deal — they oftentimes don't experience any symptoms — but the result can be calamitous for an unborn child if a pregnant woman gets the virus. That's because it's been associated with many birth defects in infants, most notably the microcephaly that results in severe brain damage and an abnormally shaped head.
So, it may very feel like a cause for concern when the number of Zika cases in any one state tops 100, as it did in New Jersey in late August. According to the state's Department of Health, there are 122 recorded cases of Zika across 17 counties as of Sept. 6.
According to the Centers for Disease Control and Prevention, the only state in the country that has experienced any locally transmitted instances of Zika is Florida, where there have been a few outbreaks in different areas of the state. It's rightfully put some Americans on edge and raised their defenses against a possible spread. Experts recommend taking steps such as using bug spray to ward off mosquitos, wearing long pants and sleeves, eliminating sources of stagnant water where mosquitos like to breed, and abstaining from sex with someone who has recently traveled to an infected country, because the virus can also be spread that way.
One of the possible explanation for the spiking number of travel-related cases of the virus popping up in New Jersey is the fact that "a significant segment of residents" there visit Puerto Rico, where there have been at least 9,000 confirmed, locally transmitted cases, NJ.com reported. More encouraging news is that the specific type of mosquito that carries Zika and also seeks out human blood for food, the Aedes Egypti, is not native to the state.
Like people living all across the United States, people in New Jersey are encouraged to take precautions against spreading the disease, especially to pregnant women.